2nd prize
ANP Architektur- und Planungsgesellschaft mbH, Kassel

The jury's verdict on the entry
The entry is essentially dominated by the continued construction of the predominant types of building: Stand-alone buildings, terraced houses, perimeter blocks and linear structures. To the east and west, six to eight-storey stand-alone blocks will be added to the "Im Mainfeld" estate.
The demolition of two existing high-rises and the senior citizens' home creates open space that can be put to good use. By closing the access road "Im Mainfeld", which runs parallel to the "Niederräder Ufer" road, the planners propose creating new real estate that can be developed for residential purposes. At the same time, access traffic is diverted away from the estate and consistently concentrated on the bordering access road.
Redirecting the access traffic will enhance the quality of residential living in the quarter, although the proposal shows no evidence of particularly high-quality open spaces. The manner in which the residential stand-alone buildings are configured seems somewhat arbitrary and must be revised.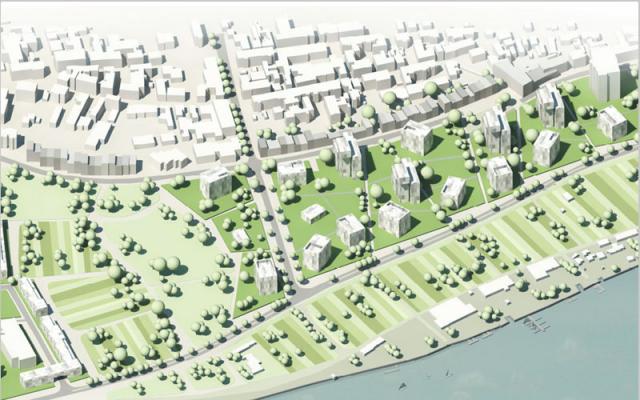 The northern part of the "old town" in Niederrad is surrounded by terraced houses, which fit in well with the structure of the parcels of land and the buildings. The construction of a linear structure gives the university teaching hospital building a new outer edge, which also provides the requisite flexibility for development within it. Elli Lucht Park is extended northwards to the River Main. The configuration of the gardens on the northeastern boundary manifests the way the structure will open up towards the River Main. To the east, a "stepping stone" extends the park to Deutschordenstraße.
The qualities associated with living in and by a park that the planners emphasize are realized in a plausible manner, provided, that is, that the open spaces between the stand-alone buildings are of a high quality. Access to the "Im Mainfeld" estate features the consistent redirecting of traffic to the perimeters of the zone, the creation of cul-de-sacs, and decentralized approaches to underground car parks. Moving the above-ground parking spaces on the road "Niederräder Ufer" is not a convincing option. The creation of groups of houses and footpaths to them across the area of greenery is welcomed and can be expected to result in increased communication between the inhabitants. The plot earmarked for the district plaza is not sufficiently structured for this purpose, and its necessity is questionable.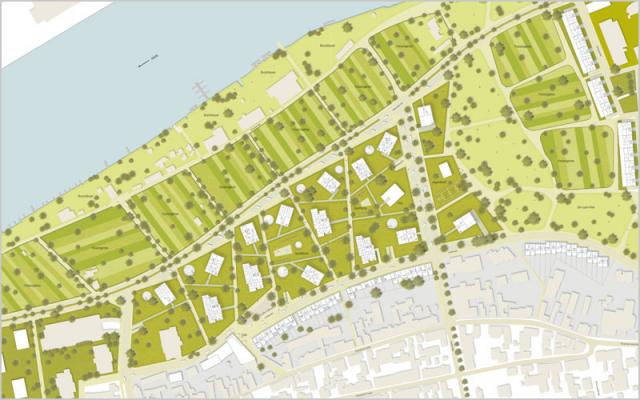 Overall, the proposal stands out for the consistent traffic calming and represents a possible strategy for transforming the high-rise estate into a residential quarter that is in tune with the times and boasts a new aura and look.