2nd prize
Jo. Franzke Architekten, Frankfurt/Main with
Rainer Schmidt Landschaftsarchitekten GmbH, Berlin

The jury's verdict on the entry
The plan stands out for the fact that the "Niederräder Ufer" road is transformed into an attractive city street, which is developed on both sides and at the same time functions as a link and access road. The development, which faces the River Main, is rhythmically interrupted, allowing pathways and views from "Niederräder Ufer" to the banks of the river in numerous places.
The jury is very critical of the street-level zone, which is envisaged as a continuous parking level. In the west a roundabout, as well as various communal facilities and service providers create a "gateway" at the start of the development on both sides of the road. The roundabout and the numerous north-south pedestrian crossings along the "Niederräder Ufer" slow down road traffic.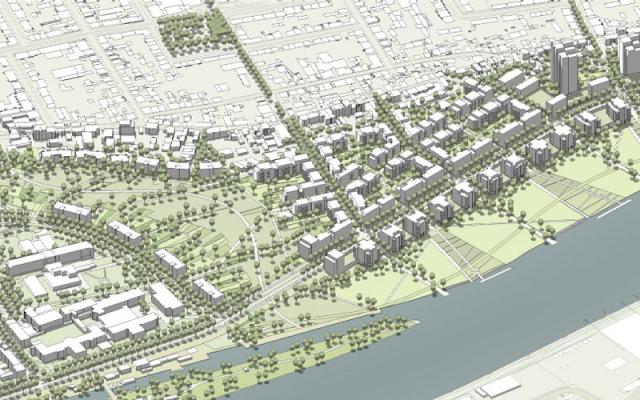 The existing parks (Elli-Lucht-Park and at Haardtwaldplatz) are spaciously opened up towards the River Main. Elli-Lucht-Park is extended as far as Deutschordenstrasse, creating a green link with the racecourse. Kniebisstrasse is extended to the River Main and transformed into a boulevard. A continuous pathway is proposed along the riverbank; whereas the facilities of the water sports clubs that lead down to the riverbank are left intact, the club houses are to be moved to the "Niederräder Ufer" and housed in the low platform of buildings proposed there. Even though this suggestion will certainly not be easy to realize, the considerable advantages that can be expected justify shouldering the difficulties. The suggestion that the two childcare centers be positioned at the point of transition to the heart of the old district guarantees social intermingling between its residents and those in the new development. A perimeter block development is planned for the middle section.
The proposal envisages several residential buildings along the extension to Schleusenweg, attractively located to face Elli-Lucht-Park are proposed. In the first construction stage this will enable additional apartments to be built without existing ones being demolished. However, to avoid problems emerging with regard to public and private domains, the private gardens extending as far as the park will have to be clearly demarcated, e.g., raised.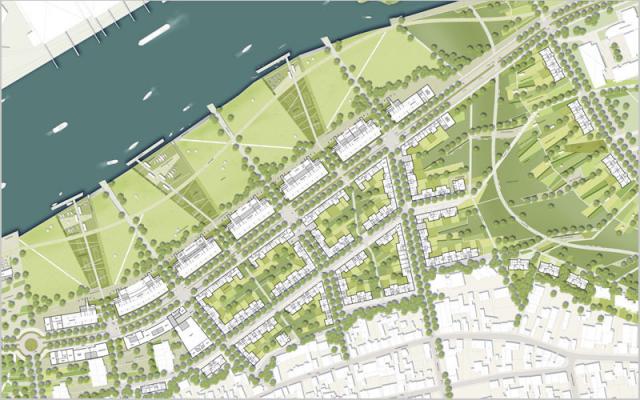 The use of parts of the flood plain envisaged in the plan must be avoided (for example by realigning the new road along the riverbank or increasing the angle of the course it takes). How the existing sewer beneath the "Niederräder Ufer" road can be integrated into the proposal is likewise something requiring further elaboration.
On balance, the plan represents an interesting opportunity for linking Niederrad with the River Main and alleviating the divisive effect created by the current riverside road.