Funding incentive for greener courtyards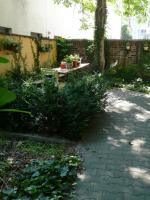 Frankfurt's Bahnhofsviertel district is a densely populated urban quarter; some 95 percent of its surface area is sealed. The countless private courtyards are one of the main reasons for this, as the majority of them are concreted over. Extending the areas of vegetation is of prime importance for the quarter, as it will not only enhance leisure quality, but also improve the microclimate. Consequently, when redesigning public zones priority is attached to extending the amount of vegetation areas, where possible. As regards privately-owned properties, on the other hand, the greener district project hinges on the willingness of home owners to participate.
Privately-owned unbuilt areas (courtyards, flat roofs of annexes, façades) tend to be subject to competing possible uses (e.g., green zones or parking spaces), which is why purposeful planning is key if existing potentials are to be recognized and put to good use.
The City of Frankfurt wishes to assist interested property owners and condominium associations in finding the best suitable and individual solution from among an abundant variety of greening options for their courtyard. In addition to removing sealed surfaces and landscaping courtyards, options include greening roofs and façades or embellishing courtyards that have an underground level with large trough planters.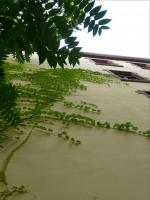 To this end, in 2013 the City of Frankfurt's municipal authorities resolved the "Funding policy for subsidies for greener courtyards" scheme. As part of the incentive, the City of Frankfurt assists property owners and condominium communities with advisory services and grants to make their courtyards greener.
The maximum subsidy is 85 percent of the eligible costs of € 150 per square meter of redesigned courtyard surface. This amount is capped at € 20,000 maximum per project and property.
In addition, landscape architect Mr. Victor Kamphausen will act as the greener cities consultant on behalf of the City. The services he provides include, in addition to advice in conjunction with the funding incentive, assistance with applications and drawing up draft designs.

For information on the funding procedure please contact
Ms. Christiane Hannemann,
ARGE Projektsteuerung Stadtumbau Bahnhofsviertel
Tel.: 0162-1018731
E-Mail: hannemann@stern-berlin.de
or
Mr. Mirko Wento,
Stadtplanungsamt, 61. S 2
Tel.: (069) 212-33751
E-Mail: mirko.wento@stadt-frankfurt.de