The high-rises in the quarter
The WinX high-rise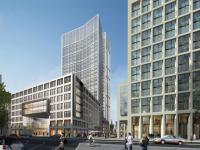 The WinX (Wings) high-rise sets the urban design tone at the center of the MainTor ensemble and is set to stand some 110 meters tall. In the tower, with its two wings and designed by architect Jürgen Engel, there will be about 31,000 m² of gross surface area spread across 29 stories. The building will have glass and light natural stone facades and boast a striking three-storey lobby. The office premises can be ventilated by opening the windows. Access to the high-rise is via a 26-meter-high portal building on Neue Mainzer Strasse that houses a further 9,400 m² of space. In all instances, the ground floor will feature hospitality outlets and retailing. Construction is scheduled to begin in 2014-5 and to take three years.
The Panorama high-rise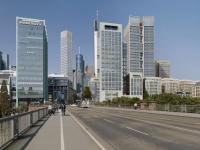 The Panorama high-rise will have a prestigious location on the corner of Neue Mainzer Strasse and Untermainkai – overlooking the river. It will constitute a new highlight on the riverbank and at 64 meters high takes its cue from the neighboring listed Schweizer National building created in 1962 by architects Max Meid and Helmut Romeick: together with it the Panorama, designed by Christoph Mäckler, will form the new gate to the city. The high-rise will have 17 stories, including the plinth and provide some 15,700 square meters of gross surface area. On the north side access to the historical Alte Mainzer Gasse will now be possible again, with a high arcade envisaged. Construction commenced in 2013 and is expected to take two years.
The Porta high-rise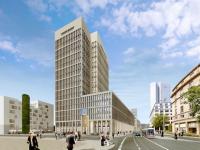 The Porta high-rise located in the Northeast on the corner of Weissfrauenstrasse and Seckbächer Gasse constitutes the gateway from the city into the MainTor ensemble and at 70 meters high will house 19 office floors. Located along Weissfrauenstrasse the plinth runs to a height of 22 meters and has seven storeys. It will feature office and conference areas as well as hospitality and retail outlets on the ground floor. There will be an arcade along Weissfrauenstrasse to offer pedestrians a broader sidewalk. The high-rise's main entrance will be on Seckbächer Gasse. In total, the building has a gross surface area of 24,000 square meters, and, designed by Jürgen Engel, boasts a light natural stone facade. Construction work was completed in 2014.