Illumination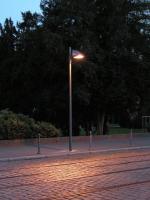 In 2003 a reference lighting system was established and the basic requirements for the subsequent implementation specified. Among other things, the objective was to dramatically improve the existing street lighting network which, given the very high point of the lamps, large intervening spacing and use of technical luminaires, had been created solely with cost-saving in mind. The City set out to design separate and pleasant ambient lighting for pedestrians essentially by radically revising the illumination concept and introducing new street lamps mounted at a far lower height in order to eliminate the "effect of basement lighting". Moreover, by positioning the luminaires facing one another on either side of the street the distribution of light defined the direction of the street.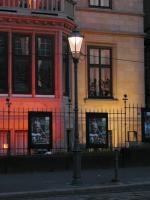 Another important criterion was to use luminaires providing directional light for street lighting in the future as this ensures glare-free illumination. At night, the roadspace is only visible thanks to reflections. The above qualities also enable the use of decorative luminaires that enhance the aesthetic appeal of the significant urban space that is the Main embankment.
Added advantages of using state-of-the-art lighting technology are energy savings and better safety.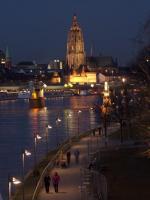 In the past some 37 different luminaire types were deployed within along the river banks, all of which required different spare parts. As a result, maintenance of the public lighting system was anything but cost-effective. The new lighting concept has succeeded in drastically reducing this number and purely functional lighting is now provided by a single make of luminaire only.
In 2004 the Untermainbrücke bridge was embellished by decorative lighting as a first step in realizing the project. Subsequently the two riverside systems, the decorative illumination of another six bridges, as well as street lighting on the bridges and riverside roads were installed within a short construction period of only 15 months.