Residents' meeting point
A "beacon project" for sustainable urban development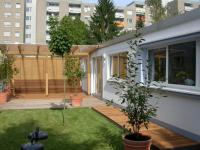 The "Social Integrative City programme" run by the federal and state governments has spurred a number of initiatives and groups actively involved in upgrading the district and stimulating social and cultural life in the east of Unterliederbach. There was previously insufficient space se available in the district for these groups.
When the Nassauische Heimstätte gardener's lodge was left vacant provided an opportunity to build a residents' meeting point to be run and financed by a neighborhood association being established.
In 2005, following the negotiation of the financial and contractual agreements between the owner and the City, according to which following the conversion work, the City has secured the building for use by the community as a whole for a period of 25 years, the Frankfurt branch of the Caritas Association acted as the developer of the conversion. Katharina Wallenborn was the architect, and the work was financed with funding from the Social City program. The cost of the conversion is around € 150,000. A good 60% of the work was carried out by unemployed youths to help them gain qualifications.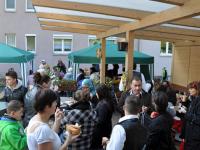 The building now includes two small offices, a meeting room (for approx. 40 people) as well as a kitchen and toilets. There is a small outdoor seating area in the courtyard.
In September 2006, the converted building was assigned to the Unterliederbach neighborhood association, which administers the drop-in point. The association has set up a wide array of (consulting) services and an annual neighborhood festival to ensure that citizens engage actively in the life of their district – and likewise to encourage people to become involved. The neighborhood association works hand in hand with the facilities and institutions in the district and assumes a leading role in shoring up the work of the 'Social City' project.