Europaviertel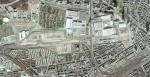 Urban development plan, Office space, Commercial site, Residential space
Completed:
2015
Reason for planning
When the main freight station and its switching yard was vacated it provided the City of Frankfurt with a prime downtown brownfield site; whereas the railroad facility had hitherto divided the area, the new urban development is destined to connect the surrounding districts. Immediately adjacent to Frankfurt's trade fair complex, it created a unique opportunity for the much needed expansion of the former.
The development of this downtown brownfield site is firmly in line with the goals of sustainable urban planning, i.e. , the prioritization of inner-city development over the use of hitherto undeveloped zones on the outskirts.
Development district
The zone in question is located west of downtown Frankfurt between the Bockenheim and Gallus districts.
The scope of the three development plans, which include the future Europaviertel and the entire trade fair complex, spans a total of 145 hectares, 100 hectares of which was previously used by the railroad.
Planning objectives
The central planning objectives include the conversion of the brownfield sites that were formerly used by the main freight station and switching yard into an attractive mixed-use city district. Approval from the planning authorities for the Frankfurt Messe grounds also needs to be secured.
The intention behind rezoning the abandoned sites is to exploit the downtown location which offers great development potential to house up to 30,000 high-quality jobs and around 3,500 apartments all located within easy reach of the city center. Moreover, Messe Frankfurt is to be given land for urgently needed expansion at its downtown complex. In addition, generously dimensioned green zones in the western section of the quarter will provide recreational facilities for the residents of the adjacent districts and improve connections within the urban fabric.

Project progress
Planning for Frankfurt's Europaviertel district commenced just under 12 years ago, and since then the resolutions for the establishment of three development plans have been passed. Development plan no. 556 "Messeviertel/ Hemmerichsweg" for the Europaviertel's eastern part was made legally binding in May 2001. Development plan no. 826 "Europaviertel West – Teilbereich 1", which covers the western trade fair complex and the site of Deutsche Bahn's former railroad repair workshop on Idsteiner Straße, was made legally binding in February 2008. While the third development plan, no. 850 – "Europaviertel West - Teilbereich 2" is intended for those areas which ceased to be used for the railroad at a later date. It came into effect in July 2010.
All these development plans are governed by an overall masterplan, which has been continually calibrated and upgraded since its first publication in 2000.