Frankfurt Program for the Construction of Rental Accommodation for Families and Senior Citizens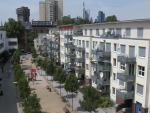 In Frankfurt households whose income levels are not much above the maximum income stipulated in the Act Promoting Residential Properties find it difficult to find appropriate housing at affordable rents. Among their number are a disproportionately high number of households with one or several children.
Interest-free loans are granted for the construction of family-friendly and communally-used, duly scaled and barrier-free rented apartments that extend and augment the appeal of the supply of dwellings catering to these households. The apartments must be rented out at a price that is 15-35 % below the local market rent level. The program is targeted at families of three or more persons with at least one child, single-parent households with one or more children, and pensioners.
Barrier-free buildings and apartment entrances suitable for all generations and highly energy efficient facilities (achieving figures 30% below the requirements of the Energy Saving Decree) are likewise standards set by the program. Moreover, a promotion bonus is granted if the residential property built complies with the passivhaus standard.
The program supporting rented housing is open to all developers who have or will have suitable residential real estate in Frankfurt.