Green concept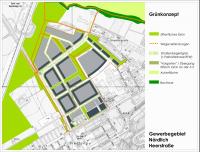 With the exception of the well integrated residential area, the planning area at the moment makes a very heterogeneous impression. Only in some places do the perimeters of the existing commercial zone encroach on the landscape.
For this reason a strip of land with trees and shrubbery is planned in the west. A spacious expanse of greenery (as compensation for other building areas) has already been laid out between the A5 interstate and the area.
The new plans alter the structure of the existing area (Teilbereich 1 - B-Plan no. 854). In the form of boulevards the access roads, as well as the spacious green front garden zones will in future give the inner area of the commercial zone a clear structure, creating a desirable location. The public areas of greenery in the middle of the planning area structure it. As far as possible, existing special habitats will be preserved and integrated in these strips of greenery. An extensive system of footpaths is intended to link the areas of greenery with one another.

With regard to green area planning, important objectives are:
Safeguarding local recreation areas by means of green links to the open countryside and strips of greenery within the area itself, so as to enable continued recreation close to homes and make the commercial zone open.

Increasing the amount of greenery in the existing commercial zone.

Preserving the valuable individual trees and the row of trees along Heerstraße.

Preserving old, and creating new links with the outer area, first and foremost the new expanses of greenery ("compensation areas") along the A5 interstate.

Structuring the commercial zone by means of tree-covered front garden zones and integrating the outskirts in the landscape.

Planting additional shrubbery in the building areas for intensive greenery and links to existing structures in the adjoining countryside.

Intensive planting of greenery, primarily shrubbery and trees, in the commercial areas, on roofs, and facades so minimize the impact of the plans on the climate and air hygiene.

Safeguarding and creating large, continuous expanses of vegetation in the building areas, as with regard to ground water protection in the planning area the standard measures for minimizing procedures such as partial sealing and seepage are possible to a limited extent only.

Developing a concept for using rain water focusing on retention measures and taking the area's natural drainage into consideration.

Using waste water

Greening roofs and facades so as to minimize the impact of the plans on water management.