Acquisition of property by ABG Frankfurt Holding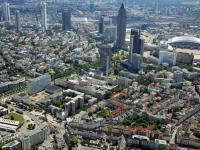 In summer 2011 on behalf of the City ABG Frankfurt Holding acquired large sections of the former Campus Bockenheim real estate from the State of Hessen, thereby ensuring that the land was transferred to the City of Frankfurt in an orderly fashion.
The purchase agreement was concluded with the intention of building an energy-efficient quarter that would be a model for others to follow, catering to the future need for combined functions of working, living and enjoying. The real estate purchased by ABG Holding is earmarked for the development of new apartments (on Gräfstrasse in the center of the site), for new buildings for cultural institutes already established in Frankfurt, and for offices in the section bordering on Senckenberganlage. Ample shopping opportunities and hospitality facilities will round out the offerings on Leipziger Straße.
"Our wish here is to provide residential space for everyone, offer cultural events for all and sundry, and create office space for a 21st-century working environment," comments ABG CEO Frank Junker.
Start on Gräfstrasse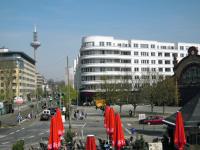 Work on the new development commenced north of the former tram depot in 2012. The new quarter will initially feature some 200 apartments. The planning concept, which was selected on the basis of a design competition, foresees the construction of rental and owner-occupied apartments by ABG FRANKFURT HOLDING and GWH Gemeinnützige Wohnungsgesellschaft mbH Hessen to plans by architects Jens Happ, Stefan Forster and Karl Dudler. The residential complex will later be rounded out with retail and hospitality outlets with a café at ground floor level; these will face onto Gräfstrasse and Carlo Schmid Platz.