Illuminating the city's riverside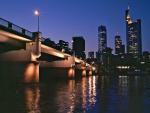 Illumination concept, Public space
Completed:
2012
Reason for planning
For many years, the public green space at the heart of the city, extending along both banks of the river Main, remained in the dark. This area is ideally located for leisure time pursuits in particular for people living downtown or in Sachsenhausen, and the City decided to transform it into an attractive space that is also safe to use in the evenings.
Planning objectives
The goal: to develop a suitable concept that blends in with Frankfurt's harmoniously illuminated urban fabric while pointing up the urban landscape by the river. On the one hand, this involved embellishing the public space by way of illumination: with lighting sources for the riverside roads, the pedestrian paths through the lawns on the riverbanks, as well as by using decorative lighting on the different bridges and historical sandstone embankments and groves. On the other, the concept included highlighting the contours of the buildings lining the riverside roads. Owned by Frankfurt's gentry in the past, the grand mansions along the Main, the majority of which on the South Bank are now home to museums, require special illumination, as do the churches, for which bespoke lighting concepts were developed.
Development district
On December 12, 2002, the City Council commissioned the municipal authorities with the implementation of the "Illuminating the City's Riverside" project in the development district, which extends from Flösserbrücke in the east to Friedensbrücke in the west.
Project progress
The "Illuminating the City's Riverside" project is part of the "Schöneres Frankfurt" urban development scheme. Conceptual planning commenced in the year 2000. A first resolution covering the modernization of the Main embankments in the form of short-term to long-term projects was adopted and translated into a concept that included planning and organizational elements. The City Council decided to adopt the planning concept proposed by the Hamburg-based d-plan office. The illumination of the public space has meanwhile been completed, whereby the contours of the buildings facing onto the river have not yet been highlighted.