Enhancing the image on the outside and inside:
Redesigning the front gardens on Alemannenweg & restructuring Alemannenweg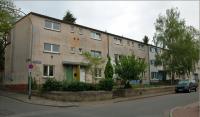 The row of houses at the east end of Alemannenweg was erected in 1929 under the aegis of Ernst May, who was the Head of Frankfurt's Planning Department at the time. Since the start of the redevelopment project, eight of the ten municipal houses on Alemannenweg (nos. 52-70) have been privatized. They were predominantly sold to residents from Unterliederbach in an effort to increase the number of property owners as it was felt that this would encourage residents to stay in the district and broaden its social structure. When the houses were sold, the City retained a 2.50-meter wide strip along the road to facilitate the conversion of Alemannenweg, which has two-way traffic in this section.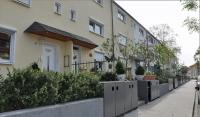 After the houses changed hands, the residents expressed the wish to enhance the appearance of the front gardens. Individual paths up to each house that in part cut across the neighbor's garden, a dilapidated retaining wall along the erstwhile property boundary and the visible presence of the wheelie bins were among the prime issues they wanted addressed. In a first step in 2008 plans got underway to give the front gardens a functional and aesthetic makeover. Accordingly, Wittich landscape architects was commissioned to draw up a development concept, which then formed the basis for an interactive process with the residents culminating in a feasible master plan that was then fine-tuned to enable implementation planning. As a result, the retaining wall as the new boundary between the road and the front gardens was shifted by 2.5 meters and adorned with a continuous hedge facing the buildings. Every two houses now share a common front path. Steel-plate wheelie bin storage units were integrated into the new wall to create an aesthetic and homogenous finish. Following the landscaping, planting in the front gardens started in spring 2010, with each adorned with an individually selected tree, and a small seating area, if required.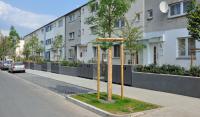 Alemannenweg was transformed in a second step in 2010. The additional space gained from the front gardens was used to broaden the sidewalks and parking was reorganized into a separate parking strip interspersed with trees. The road was slightly narrowed and resurfaced.
In October 2010, the residents hosted a neighborhood party to inaugurate the results of the makeover, which has considerably enhanced the district's overall appeal and upgraded its image – both on the outside and inside. The re-landscaped front gardens are exemplary in character and have inspired a whole host of exchange and debate.