Real estate consulting / building development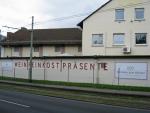 In Höchst, a number of properties have been identified that will play a central role in the development of the district.

While modernization is destined to improve the quality of existing buildings, real estate consulting services focus on advanced development efforts devoted to high-profile properties. Individual consultation sessions will help owners of such key properties identify new usage options. It is vital that vacancies and undesired usages are avoided especially as regards those key properties.

The site of the erstwhile iron foundry between Bolongarostrasse and Ludwig Scriba Strasse plays a crucial role in masterplanning the cityscape. With the assistance of MANDIE district management, following the departure of the ARO company in mid-2011, the premises were successfully let to the Höchst winery, a local business with more than 10 staff.
Given Höchst's urban structure means that the majority of building development takes place in the existing urban fabric. There are no large brownfields, abandoned industrial areas or the like that offer potential for new builds, illustrating the necessity for an individual approach. Consequently, the idea is for the district management to contact property owners and illustrate feasible developments that are potentially linked with the downtown Höchst support program. Last year, the property owners contacted tended to be cautious in their feedback and willingness to cooperate, however.

Another focus is on the taverns belonging to the former Binding brewery, which are dotted all over downtown Höchst. KEG property development succeeded in purchasing those on Melchiorstrasse 10 and on Bolongarostrasse 156 (Goldener Adler).

At present the high number of entertainment outlets and taverns with gaming machines are posing particular difficulties. These offerings are highly frequented in particular on Bolongarostrasse, but also on Dalbergplatz and Königsteiner Strasse, which impacts adversely on the surroundings. Efforts have been made to demonstrate alternatives to property owners in one-on-one discussions. Should there be no demand for retail premises the location in question will need to be reclassified, a process that has to be part-driven by the owners. Possible strategies include the transformation into offices and doctor's premises as well as residential space.

Having made amendments to development plan SW 6c no. 1Ä (effective as of November 29, 2011) and development plan no. 883, the Frankfurt City Planning Department played a role in safeguarding the established mixed-use quarter with its focus on residential space or resident-friendly commercial and service outlets against disruptive industries. In particular an effort has been made in usage zoning to ensure that businesses such as amusement arcades, betting shops and the like are excluded from opening in downtown Höchst.