Contents of the masterplan
The lighting masterplan seeks to create an authentic nightscape for Frankfurt that will accentuate the material properties of spaces and objects, while avoiding artificial lighting effects. The aim is to produce an image at night which exudes a natural urban flair. In realizing this objective, in particular the contours of the cityscape will be defined and replicated – consciously involving dark areas, a feel for spatial composition, and an unobtrusive overall concept.
Even though the skyline plays a key role in how the city presents itself to the outside world, the masterplan is not exclusively tailored to the illumination of Frankfurt's high-rises. The City of Frankfurt is therefore chiefly concerned to make certain that public spaces and high-rises form a coherent and balanced whole. The concept provides a well thought-out view of the cityscape in relation to its image at night – in this particular case, the wider banking district. In particular, public squares and parks, street lighting, neon advertising, the illumination of special (e.g., public and historical) buildings along with standalones, such as fountains and monuments, were studied in depth.
Providing examples of potential solutions, such as the design proposal for the Wallanlage greenbelt, the overall concept illustrates the potential for deploying light as an urban development tool.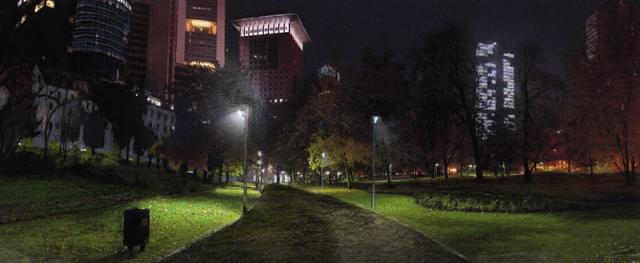 In addition, the masterplan contains general illumination criteria that are to be further refined as a set of guidelines both for public-sector and private-sector stakeholders. To date, the expert assessment has not yet resulted in formulation of a guideline or directive. However, the masterplan already forms the basis for all upcoming public-space redevelopment measures, such as Neue Mainzer Straße.