Highlighting the Main embankment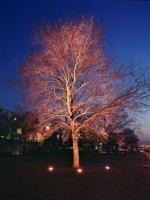 The first objective when creating the new leisure-time zone on the Main was to identify the key architectural and structural design features that define this space. On no account were light effects to introduce or create unnatural or new elements that did not form part of the zone's appearance during the day.
The intention was to carefully transfer the familiar key daytime features into the night-time world such that pedestrians would easily be able to recognize and identify their surroundings, thus helping them to find their way around at night, too.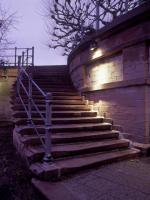 Specific attention was paid to: the old river embankments dating from the 19th century and now listed as part of the city's cultural heritage, including the retaining walls, bastions, staircases and ramps; the specific structural details on different bridges and accompanying bridge heads; the typical boulevards lined with plane trees on different sections of the embankment, single trees or small groves.
In addition, the focus was also on a few historical features that bear witness to the commercial past of some of the embankment sections, such as the cranes used to hoist goods from ships to the shore.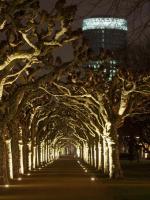 The project hinged on one of the largest integrated lighting concepts in Europe, as it involved combining different kinds of illumination used for the open spaces on the lawns on the river banks, for the promenades along the riverside, as decorative lighting for the bridges and embankments along with the street lighting on the bridges and riverside roads.