Kindertagesstätte 27 - redesign of the forecourt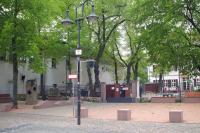 Usage of the public green in front of the heritage-listed building that houses the daycare center "Kindertagesstätte 27" on the main thoroughfare of Frankfurt's Fechenheim district was far from optimal. Often the square was littered with trash or misused as a public urinal. Members of the Local Partnership and the public have been complaining about the sorry state of the site for quite some time.
Frankfurt-based landscape architects Beuerlein / Baumgartner were commissioned with the redesign of the premises as part of the urban development scheme. The planning process was backed up by in-depth debate and discussion with members of the Local Partnership and affected residents.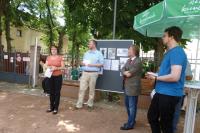 In spring 2013 interested citizens had the opportunity to view the proposal for the redesign of the public green during a meeting of the Local Consultative Council 11. In the period following the event the design was displayed in the "Energized Town Centers" community center.
Building work under the management of Frankfurt's Greens and Parks Authority commenced in the fall of 2013. Following its facelift, the square, which Mayor Olaf Cunitz officially opened in July 2014, presents itself in a whole new guise.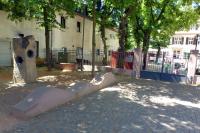 The sandstone elements used in the makeover reference the materials of the heritage-listed building housing the children's daycare facility. An acoustic device known as a humming stone and an undulating bench (offering seating and also something to try balancing on) serve to embellish the southern half of the square. In the northern section a bronze tablet has been laid commemorating the achievements of famous gymnast "Turnvater Jahn" in Fechenheim. The memorial was implemented at the suggestion of the Fechenheim "Heimat- und Geschichtsverein", the local heritage and history society. In the future an interactive display panel will be installed on the right-hand side of the square at the request of the Local Partnership.