Conceptual design of the GrünGürtel-Park
Green areas and paths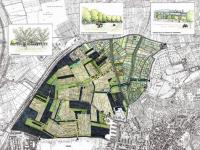 The plan is to transform the countryside that forms the transition between the city limits and the open countryside north-west of Seckbach into a greenbelt and preserve its typical but nowadays unusual mixed-usage character, with farmland and recreational gardens forming essential components of the new park. Located on sloping terrain with undulating topography and favorable hydrogeological conditions, the site is ideally suited for agricultural use as pasture and meadowland, which typically reflects its use in the past. The present planning approach embraces both uses by assigning the bulk of the land to crop production, which will however be interspersed with an extensive network of extensive green areas. Thoughtful zoning of the park will not only provide recreational space for people from the nearby residential areas, but likewise permit agricultural use and create protected zones for flora and fauna – predominantly in the groves around the edges. The key objectives of the planning are: guiding visitors through the landscaped space and encouraging them to identify with the countryside. The idea is to preserve the small parcels so typical of this cultivated environment and carefully blend in a number of designated recreational areas. Over the course of time, the paths will be bordered by bands of park elements such as lawns, open meadows, while reserving the fields in between them for agricultural use. Typical greenbelt features, including small and large copses, benches and steles highlight points of interest in the landscape and bring the special location of the greenbelt to mind.
The existing paths will be extended to form a closed network of footpaths and cycle tracks which will link up to the regional routes.
The conceptual design of the park ensures that social, ecological and business expectations will be harmonized in a sensible way.
Compensation areas – offsetting infringements made by other development plans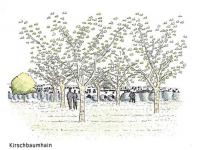 The areas included in the Seckbach Nord GrünGürtel-Park development plan will offset the intervention permissible in the urban fabric on the back of other development plans. Most of the steps that will become effective with the implementation of the conceptual design will improve the ecological value of the land compared with its current use.
This potential for upgrading natural land translates into compensation areas and measures, which in accordance with section 1a of the German Building Code will offset other development plans in the cityscape, a strategy that will also secure a large part of the financing for this park.