KulturCampus Frankfurt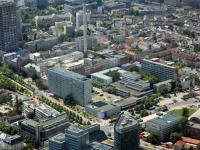 The decision to relocate the University of Music and Performing Arts to the Bockenheim complex gave rise to a concept being developed for a full-fledged KulturCampus Frankfurt. In the future it will be a school for dancers, musicians and other cultural professionals. The idea is that complementary cultural facilities will make use of the new KulturCampus. In the students' house, which is earmarked for preservation, an open venue is being established where citizens can engage in cultural and social interaction. Together with the existing facility of the municipal theaters that perform at the Bockenheimer Depot, the cultural campus will offer new synergies going forwards.
The local Naturforschende Senckenbergische Gesellschaft plans to expand its museum and research facility as an additional feature of KulturCampus
To find up-to-date information on the cultural campus along with opportunities to become involved simply visit the Kulturcampus Frankfurt homepage.