Cultural facilities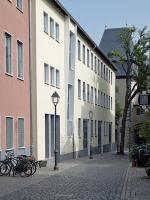 In an effort to increase Sachsenhausen's appeal not only in Frankfurt but also in the region and beyond, along with overall urban development the City is keen to strengthen the quarter's cultural facilities and offerings. However, Sachsenhausen property owners and publicans, and here the district differs from others in Frankfurt, have very little interest in playing an active role in changing the quarter's image as primarily being a hub of nightlife.
Following several attempts to generate change from within the quarter, the City of Frankfurt started putting new cultural facilities in place in order to transform the quarter into an innovative and charismatic cultural magnet that would attract the broader general public, too.

Accordingly, a new cultural axis that extends along Großen Rittergasse has gradually evolved. It is devised as an independent addition to the eminent cultural axis that stretches from Frankfurt's main train station along Museumsufer and culminates in the Ikonenmuseum on Brückenstrasse.

Not open to the public for a long time, the Kuhhirtenturm tower marks the beginning of the new cultural axis. The City of Frankfurt renovated the tower, which forms part of the former Sachsenhausen fortifications, and transformed it into a museum dedicated to composer Paul Hindemith, who lived and worked here in the 1920s. Today, a small chamber music hall is situated in the tower's cupola. The result is a venue that attracts music lovers and history enthusiasts alike and has been very positively received since opening in 2011. The plaza in front of the tower is likewise getting a makeover.

The cultural axis extending along Großen Rittergasse includes three artist studios on the groundfloor of Frankensteiner Hof, where the Sachsenhausen Bureau of Social Welfare has been headquartered since the former Water Management Department's building was renovated.
The quarter's cultural attraction has been further enhanced by the fact that the Neo-Gothic Dreikönigskirche and the Gothic Deutschordenskirche with its Baroque portal are now open all day long.