Logo for Fechenheim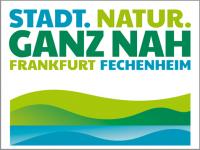 In June 2012, Fechenheim's citizens were offered the opportunity to cast their vote on a new logo for Fechenheim. Polling booths were the "Aktive Kernbereiche" (Energized Town Centers) information stand at the Linnefest festival and the plaza outside the "Kita 27" daycare facility for children.
The working party on "Eingangsbereiche Fechenheim" (Fechenheim Entrance Areas), an initiative proposed by the local partnership group as part of the "Aktive Kernbereiche in Hessen" urban development scheme, came up with the idea for a logo for Fechenheim. In the future, the new logo will provide a clear visual identity for Fechenheim's citizens and visitors, give the district a greater presence and make it known in the broader municipality and region.
During the process, 377 people expressed an opinion on Fechenheim's new logo. Citizens were not only able to cast their vote at the "Aktive Kernbereiche" information stand, but were also able to use the voting postcards distributed in downtown Fechenheim and available from retailers, the post office, Volksbank, hospitality outlets, parishes, the Heinrich Kraft and Konrad Haenisch schools as well as club houses and galleries. One third of the overall 1,200 voting postcards distributed was returned, manifesting the great public interest and the campaign's success.

Citizens were able to choose between three attractive logos, all of which were designed by Fechenheim-based design studio Lie and inspired by statements made by visitors to the 2011 Fechenheim Fischerfest. On that occasion the "Energized Town Center" center management interviewed Fechenheim's citizens, asking them to highlight distinctive aspects of their district that made it special to them. The majority of those polled gave as their top choices being close to nature and recreational areas.
Voting on Fechenheim's new logo, some 40 percent of the citizens decided in favor of the logo featuring the slogan "Stadt. Natur. Ganz Nah Frankfurt Fechenheim" (City. Nature. Right by Frankfurt Fechenheim).
The winning logo first made a public splash at Fechenheim's Fischerfest on September 1, 2012. The citizens were commended for their involvement in the voting campaign in a prize giving ceremony.

The Fechenheim logo can be downloaded at www.logofechenheim.de. Private individuals and business owners are free to use the logo for presentation on their homepages, letterheads or flyers.
Information on this and other projects under the umbrella of the sponsorship scheme is available from the "Energized Town Centers" neighborhood office, Alt Fechenheim 80. Opening times Monday from 3 – 7 p.m., Wednesday from 2 – 6 p.m. and Fridays from 9 a.m. to 1 p.m. Tel.: +49-69-40893735, or email: frankfurt-main@dsk-gmbh.de.