MainTor-Areal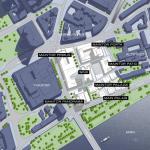 Urban development plan, Office space, Residential space
Completed:
2015
Reason for planning
In 2001, the Degussa company became a member of the Essen-based Evonik Industries AG and relocated its headquarters to Düsseldorf. In 2005, Deutsche Immobilien Chancen (DIC) acquired the real estate that had belonged to the Degussa grounds with the overall objective of fundamentally restructuring the complex.
Development district
The zone in question spans the area between Seckbächer Gasse, Neue Mainzer Strasse, Weissfrauenstrasse and Untermainkai. The building housing Frankfurt's "Komödie" theater, among others, is not part of the development.
Planning objectives
The Degussa complex is one of those offering key development potential for downtown Frankfurt. Situated on the north bank of the River Main alongside one of the prominent routes into the city, the site will play a decisive role in defining the image of the city. The intention is to redevelop most of the grounds and open them up to the public. The key goal behind the planning is to upgrade the area by creating an integrated quarter with an urban feel that combines office, business and residential properties of high architectural appeal which blend perfectly into the existing neighborhood. A 100-meter-high tower will forge a new urban icon, with two additional 60-meter towers planned in the north-east and south-west respectively. Some 108,000 square meters of the gross floor area will be dedicated to apartments.
Project progress
In spring 2007, DIC tabled a project proposal, which is entitled 'MainTor' for public discussion. The urban masterplan drawn up by the architects at KSP was further fine-tuned in the course of close interaction with City representatives. In fall 2009, a design competition was held for the high-rises to be located in the middle and south of the site. The proposal by the architects for the 100m-tall 'WinX' tower won the day, while architect Christoph Mäckler was awarded the contract to design the 'MaintorPanorama' high-rise in the south of the zone. Following from the masterplan, development plan no. 867 was established to secure approval from the planning authorities. The land was subdivided into plots in the course of 2010. At the end of March 2010 the City Council passed a resolution to enact the development plan, which thus came into effect on May 18, 2010. After the last remaining tenants moved out in late 2010, Museum für Moderne Kunst was given an opportunity to use the vacant premises as a temporary exhibition space for its jubilee shows in summer 2011. The Degussa buildings were demolished between fall 2011 and summer 2012. The new buildings are currently under construction.