Initiatives in the public space
In recent years several measures were identified and brought to attention in conjunction with the Downtown Höchst Support Program. Some of these are currently on the drawing board or being implemented while others have been completed.

The following building initiatives have already been realized: Andreasplatz square now structures the public space in the eastern section of the development area, while the "Telescopes into the Past" installation makes the Höchst's synagogue on Ettinghausenplatz square visible, not to forget the new playground in Luciuspark.

In addition, financing has been secured for the restoration of the timber structure of the fountain on Höchster Schlossplatz square and the renewal of the cover over Brüningbrunnen well.

The music bunker on Leunastrasse received a makeover by an international artists' group from England, the Netherlands and Germany, who embellished it with graffiti, transforming it into a real eye-catcher.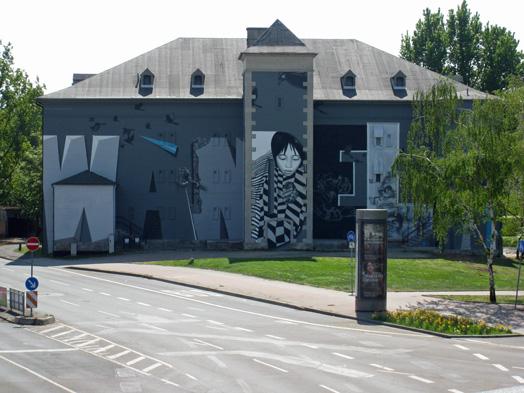 The demolition of the erstwhile Süwag headquarters on Brüningstrasse was financed through the support program. The newly gained real estate served to extend the adjacent Brüningpark and restore the view of the River Main from downtown.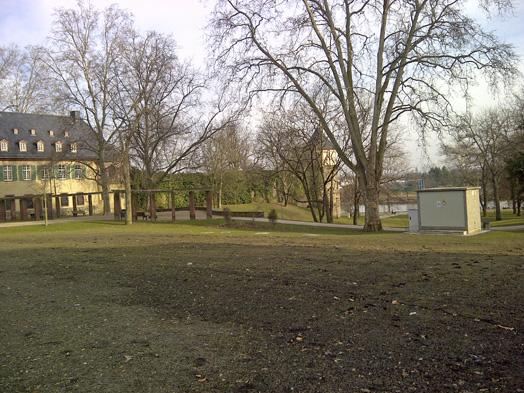 The illumination of the Main embankment and castle in Höchst was implemented in 2013-4 and the new lights included in the 2014 Luminale festival. The result is a striking night-time silhouette of downtown Höchst on the riverbank. Part of the ensemble is a display of Justinuskirche, which being Frankfurt's oldest church exudes a special significance as a cultural heritage landmark.

Moreover, subsidies have been made available to finance part of the municipal share in the planning costs for the forthcoming refurbishment of the station building.

Bolongarostrasse linking the district's west and east forms the backbone and bedrock of downtown Höchst. Given its importance there are plans to give Bolongarostrasse a facelift and transform it into an attractive boulevard. The plans have already been presented to the planning council and the local consultative council.

Outside of confines of downtown proper, Höchst municipal park is due a substantial transformation. The first phase – the modernization of the playground – was completed in 2014. The aim is to create a stronger awareness among the population of the status of this historical city park.