Redesign of Buchrainplatz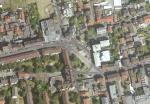 Public space
Completed:
2015
Reason for planning
Prior to the redesign, both the "Buchrainplatz" street-car stop and Offenbacher Landstrasse, which surrounded the center of the plaza, dominated the layout of Buchrainplatz functionally speaking. The amount of space available to pedestrians is at present restricted to the approx. 300-square-meter-large Oberrad market square. Given that the square already fulfills numerous functions (e.g., the weekly market, club celebrations, and the Christmas market), it is already a lively district focal point.
Planning district
The plaza, which has now been redesigned, is located in the center of the district of Oberrad. In addition to the Oberrad market proper, it also includes the central section of Offenbacher Landstrasse, the western section of Wasserhofstrasse, and the intersections with Buchrainstrasse, Wehrstrasse, and De Neufville Strasse.
Planning objective
The objective was to upgrade Buchrainplatz. Fundamentally rerouting the traffic on Offenbacher Landstrasse along the west and south of the plaza in both directions freed up space which can then be used to extend the square. The measure has clearly enhanced the public space, created greater scope for pedestrians (increasing pedestrian safety) and a platform for events in the district. The plaza is the heart of things, with its new recreational areas and (potentially multipurpose) center; its redesign has helped ensure the area is more attractive in terms of appearance, function, and quality.
The greenery, which used to be in the southwest of the plaza, has been given clear borders and upgraded.
Towards its northern edge a pergola has given the plaza a new leading edge.
Project progress
The City Council approved the inclusion of Buchrainplatz in the "Schöneres Frankfurt" (Making Frankfurt More Attractive) investment program in the year 2000.
During meetings of working panels and representatives of the Local Consultative Council, variations and planning suggestions were discussed and presented at a public meeting in May 2009.
On conclusion of the work by the Municipal Planning Dept. and the City Council's approval of the preliminary planning in March 2009, companies Zahn Architekten und Stadtplaner and Ingenieurbüro Sehlhoff GmbH were tasked with further design and technical planning.
In May 2010 the plans were presented to the Planning, Building and Housing Construction Committee and as such the financial framework of the project set.
Construction work began in October 2010.
The work was divided into three construction phases (chapter "Construction Phases"). After a longer pause in construction work and the winter idle time at the turn of the year (2012/2013), the work was commissioned in summer 2013.
The plaza was inaugurated with a ceremony on July 9, 2013.
PDF files relating to the project