Planning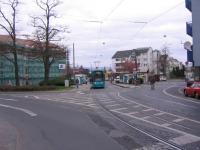 In accordance with the legally applicable development plan no. 418 (Wehrstrasse Buchrainplatz), the Offenbacher Landstrasse in the section at Buchrainplatz now routes traffic in both directions on the western and southern sides of the plaza.
Buchrainplatz was redesigned as a significant barrier-free public space in line with the objectives of the "Schöneres Frankfurt" (Making Frankfurt More Attractive) development program.
The road space thus freed up became part of what was the plaza. As a result, the pedestrian area has been extended as far as the streetcar stop. A new development now borders the northeast periphery of the plaza.
The boundaries of the existing areas of greenery in the southwest section of the plaza were redrawn and the greenery renewed and upgraded. The objective behind the measures: to focus the area generally such as to give it a more attractive appearance, function and quality for users, while enhancing the quality of life for those living in the immediate vicinity and the residents of the district of Oberrad.
Extending as far as the "Buchrainplatz" streetcar stop, the plaza now provides much greater space and can accommodate functions such as a weekly market. A quiet area was created in the northeast corner of the plaza; existing elements such as the listed Oberrad gardeners' pump form an integral part of it. On the northeast edge, a pergola will form the otherwise absent perimeter and level out different surfaces. Wasserhofstrasse is now a one-way street with traffic routed eastward.
A ramp along the eastern edge of the plaza and a single flight of steps integrated into the pergola offset the difference in the levels of Wasserhofstrasse and the Oberrad market.
The layout of southwest plaza was changed by replacing trees as well as lawns, hedges and rosebushes. A row of trees opposite the streetcar stop designates the plaza's perimeter.
The old toilet facilities were demolished and replaced by a new compact structure that is part of the market place in terms of location and function (in direct vicinity of the streetcar stop - see plans by Sehlhoff). The new facility is expected to be installed in 2014 (for detailed information please see page on Construction Phases).
There will be safe pedestrian crossings at the intersection between Offenbacher Landstrasse and Wehrstrasse on the southern edge of the plaza. The footpath across the central area of greenery has been removed.
Two taxi stops were installed on the southern edge of the plaza.
The number of taxi ranks will be reduced and moved to the southern edge of the plaza.
On Offenbacher Landstrasse there will be dedicated cycle lanes. Cyclists coming from Wasserhofstrasse will be directed along a separate cycle path in the pedestrian area to reach the safe crossing across Wehrstrasse.
The "Buchrainplatz" public transportation stop was maintained and enhanced by a passenger information system. Platforms and sheltering were replaced and the track area paved.