Planning phases of the new building project
The three award-winning entries in the international competition were refined during a revision phase in 2004 with the close involvement of the municipal authorities. On January 13, 2005 the ECB´s Governing Council decided to continue planning its new premises with the architects from the Vienna-based studio Coop Himmelb(l)au.
This decision was followed by an intensive optimization phase that came to an end on December 15, 2005 when the ECB´s Governing Council formally adopted the results. The reason for introducing the optimization phase was to give the winning architects the opportunity to hone their proposal on the basis of revised functional, spatial and technical requirements and budget specifications.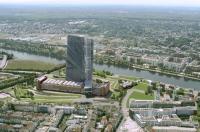 The optimized design by the architects at Coop Himmelb(l)au is made up of three elements: the wholesale market hall proper, the double office towers and their connecting cross structure.
The proposal originally included a "groundscraper", a flat structure to the south of the wholesale market hall, but this was omitted from the final plans in order to concur with the City of Frankfurt's request that the view of the wholesale market hall from the Main embankment remain unobstructed.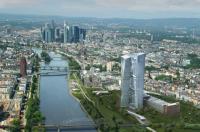 The cross structure, which penetrates the wholesale market hall, connects the two office towers to the latter and doubles up as entrance hall and "window to the city".
The shape of the double towers, which are joined by an atrium, has not significantly changed compared to the initial competition entry. Attention should be drawn to the redefined landscape design, which has been further developed to integrate the ECB's security requirements. In the north-east, the greenbelt link that will in future close the existing gap between the ECB´s property boundary and the railway embankment from Sonnemannstrasse to the banks of the Main, will be visually extended on the ECB site.
The planning phase extended from March 2006 until the point when planning application was submitted at the end of October 2007. In spring 2008 the preparatory measures commenced, which predominantly involved the excavation and securing of the pit. The positive outcome of a pan-European call for tender for the construction work held in 2009 led to the ECB Governing Council's decision on December 17, 2009 to commence with the main construction work for the European Central Bank's new premises in spring.The 1,400 ECB employees relocated to their new offices at the end of 2014.
For further information on the ECB´s new head office, please consult the ECB website ECB´s (German, English).