Masterplan 2004/2010
Rahmenplan 2004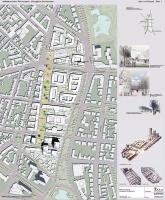 The key element that structures the site from the Bockenheimer Depot to the Department of Pharmacology building (designed by Ferdinand Kramer and now listed as part of the city's cultural heritage) is a green band that follows the line of the old Bockenheimer Landwehr, connecting the various quarters in a coherent fashion. The strip serves to create generously laid-out urban plazas and public parks, which will balance the shortfall of free spaces in the neighboring quarters.
The planning concept essentially envisages an urban quarter that offers a mixed-use structure for working, living, shopping, hospitality, and culture.
New residential quarters will be located in the southern part of Gräfstrasse and along the green strip, while the majority of commercial facilities will be on the busy thoroughfare that is Senckenberganlage.
The area around Bockenheimer Landstrasse is being assigned a new function as a district center, with stores and hospitality outlets grouped around Bockenheimer Warte rounding out the range of retail outlets on Leipziger Strasse.
Part of the city's cultural heritage, the ensemble of the buildings between Mertonstrasse and Robert Mayer Strasse, will remain intact and continue to be open for public, cultural and scientific research activities.
A child-care facility with five groups will be provided in the south of the complex on Georg Voigt Strasse.
The height of the new buildings will in principle be harmonious and consistent, with the number of main stories emulating those in the neighborhood.
An exception is the high-rise complex that will be located in the south of Robert Mayer Strasse, which will replace the existing tower housing the Goethe University's Social and Educational Sciences and forge a link with the existing group of high-rises around Ludwig Erhard Anlage.
Traffic
Good access to the district in question is provided by roads and the public transport infrastructure already in place. The quarter is also linked to the regional transport network.
The new commercial blocks will primarily be entered via the existing main traffic arteries in a bid to curb the impact on the neighboring quarters in Bockenheim. The new residential developments will be predominantly accessed via Gräfstrasse.
The planning concept envisages reserving the central green strip and the plazas between the blocks for pedestrians. This will result in an extensive car-free zone that improves the quality of the quarter considerably in the long term.
Information events - 2010 Masterplan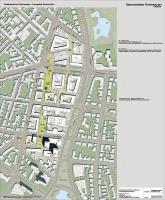 Ample suggestions from citizens in the Bockenheim and Westend districts as well as the great interest shown in the status of planning prompted the City Planning Department to host two information events on the redesign of the erstwhile university campus complex in 2010.
The architects at K9 Architekten, the company that won the competition in 2004, revised the original masterplan on the back of the two meetings and the political decisions in relation to this matter.
The extensive minutes of the two events and the 2010 masterplan can be downloaded below as PDFs.