Play areas and open spaces
Play area and open space at the "Anspacher Strasse" residential complex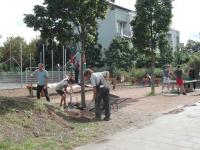 For a long time there were no suitable facilities for older children and youngsters to play and indulge in physical activity at the "Anspacher Strasse" residential complex located on the Gallus' northwestern periphery. Through cooperation between the Social City program and ABG FRANKFURT HOLDING (the owner of the land) what was previously a toddlers' playground on Anspacher Strasse was transformed into a playing surface suitable for soccer, basketball, and table tennis. Under the guidance of the "discorso" association, the children and youths were included closely in devising ideas for the site, in the planning process, and in the actual building work in the summer of 2007. The planning and building was financed by ABG FRANKFURT HOLDING and through a grant from the Social City program. With the support of the "Aktion Mensch" foundation, the Caritas charity (which also runs the local St. Martin nursery) has taken on the educational supervision of the playground for the coming three years. Organized sporting and leisure time activities are primarily intended to engender and train social skills, self-organization and a sense of responsibility among young people.
Galluspark II play and kickabout area in Kleyer Strasse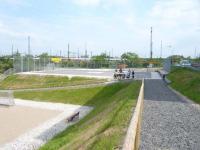 A long time was spent looking for somewhere that the children and young people in south Gallus could use for playing ball sports. An analysis of the area revealed that the only suitable space was the disused piece of land between the Galluspark residential complex and the former Adler works. In 2006 part of it was acquired for both a permanent and a temporary kickabout area. These were finished in October 2007 and handed over to the district at a big opening ceremony. The kickabout area has since been run by trained supervisors from the Department of Youth Welfare and Social Affairs, "Sportkreis Frankfurt" and "Nike" sports equipment company.
In order to ensure that the kickabout areas remain part of a multifunctional green, a participation program involving young people, local residents and investors was conducted as part of the development of the property into the new "Adlerquartiere" residential quarter. The key points resulting from this process provided the framework for the design of the new green, which was completed in the summer of 2016 and officially opened in November 2016 as the "Dr. Julius-Munk-Anlage".