Urban development concept - usage concept
Basic urban structure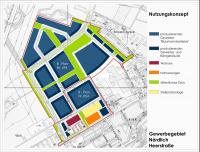 The urban framework is determined by a clear: green (front garden) zones are envisaged between the road and the buildings, which are adjoined by a construction zone, where office and administration buildings can also be erected. In the inner area this gives the roads a spatial framework. Here, the existing row of trees on the northern edge of Heerstraße is an important urban element: the contrast between small-scale housing on the southern side and large, elongated, commercial buildings on the northern side becomes less pronounced.
There will a large range in the size of the plots of land in the area. These can include business sites with several hectares of land, though smaller units are conceivable as well. The provision of building land for the manufacturing industry is the most important objective of the plans. For this reason, office and administration buildings will generally only be permitted on the perimeters of the building lots.
The area on Heerstrasse
Heerstraße is one of the important major traffic axes in the north of Frankfurt. For this reason more valuable (in an economic sense) facilities should also be able to become established along an approx. 150-meter deep strip of land alongside it. The neighborhood store planned on Heerstrasse has since been built. The other commercially usable plots in the above-mentioned 150-meter strip can be used for office and administration buildings.
Residential space
The extension northwards of the residential space at Heerstrasse 144-188 has already been implemented. This has strengthened the focus on housing, such that despite increased commercial use in the east and north, the quality of life in the existing quarter can be preserved.