Structure of the urban redevelopment
Integrated development concept
In order to integrate the renewal of the "Bahnhofsviertel", the district around the main station, and the various efforts to promote it into a long-term process, it was brought under the aegis of the "Urban Redevelopment in Hessen" urban renewal program. As a basis for this urban redevelopment, an integrated development concept for the "Bahnhofsviertel" was devised in an open process, known as an "ideas lab", with the involvement of the residents. It embraces approaches to the main features of the overall redesign of the "Bahnhofsviertel". These then get subdivided into individual projects which are continually implemented in the urban redevelopment process.
Since 2007 a consortium made up of BSMF mbH from Frankfurt/Main and Berlin's S.T.E.R.N. Gesellschaft der behutsamen Stadterneuerung mbH has been commissioned to manage the urban redevelopment process. The assignment involves calibrating, updating, and implementing the urban development concept, with a further focal point being the supervision of measures, moderation and mediation, and public relations. The district office at 16a Gutleutstraße (formerly 6a Moselstraße), which was set up as early as the preparatory stage, continues to be open on a continual basis and serves as a district drop-in and information center.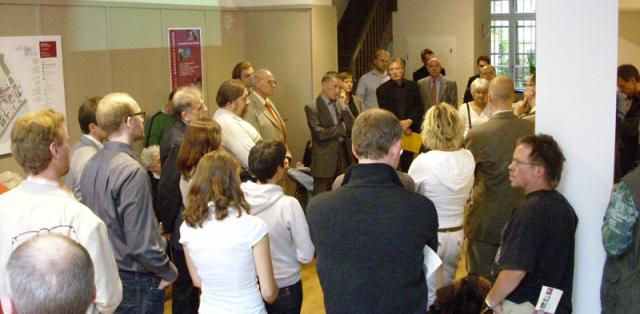 Steering group
A steering committee was established in the course of realizing the "Bahnhofsviertel" urban redevelopment. This acts as an advisory council, in which relevant institutions, initiatives, and lobbyists from the district are represented. Given their specific knowledge and interests, each can input information and make recommendations for the course of the urban development process. The steering committee was set up in May 2008 by the City Councilor responsible for planning and convenes four times a year.