Conversion and redesign of the public space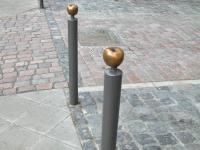 In early 2003 funding from the modernization grant scheme was extended to cover measures in the public space, meaning that in addition to enhancing the existing buildings new matching designs could be introduced to buttress the quarter's revitalization.
These measures include improving the quality of the pavements in the pedestrian precincts such that they emulate the 19th-century originals, redesigning the entrances to the quarter, and realizing a concept for upgrading the existing historical fountains so typical of Sachsenhausen.
In redesigning the public space the focus is on restoring maximum clarity as this will highlight the quality of the quarter's historical downtown spaces again.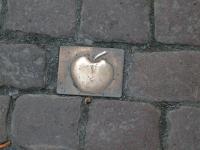 The measures have been implemented in stages and are as good as complete. The first construction stage in Grosse Rittergasse commenced in 2004. The cobblestone pavement was re-laid and granite bandings added. These reference the historical design of the roads with their high curbstones that once separated a narrow pedestrian path from the middle of the lane, which was open to vehicles. Now installed flush with the road surface the bandings serve to add structure to the roadscape.
Subsequently all downtown lanes were redesigned one after the other to comply with the same principle.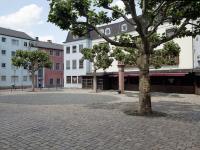 Paradiesplatz square has likewise received a makeover. Small cobblestones define the center of the plaza; larger stones were laid towards the square's periphery and reaching as far as the edges of the buildings. The trees were arranged in a circle. The square has its own power supply for festivals. The nature of the design measures is such that they will not impede festival businesses.
The final construction stage in the center of the old town will see the development of a plaza between Kuhhirtenturm, the historical fortifications, and the new residential building opposite which, as an extension of "Alte Brücke" bridge, will form another entrance to old Sachsenhausen. Cobblestones will be selected to match the surrounding pavements. The Bäckerbrunnen fountain, which previously adorned the courtyard of the Haus der Jugend youth hostel, will be relocated to a new place in front of the old city wall and will return to being an operating fountain. Spotlights have been fitted in front of the historical city wall which, paired with the illumination of the Kuhhirtenturm, are set to accentuate the historical aspects of this newly created plaza. Construction is envisaged to be completed by the end of 2015.The conversion of Frankensteiner Strasse is underway and expected to be completed by the end of 2015. Elisabethenstrasse will receive a makeover as part of the "Making Frankfurt More Beautiful" scheme.