Network of connecting lanes between the River Main embankment und Alt-Fechenheim
"Alt-Fechenheim" shopping street and the Fechenheim River Main embankment are linked by a network of six lanes. Five out of the six, however, do not meet the requirements of a thoroughfare in terms of their design and perceptibility – and their state of repair. The plan is to redesign and enhance these lanes (Lappengasse, Plessengasse, Löhnunggasse, Leinwebergasse and Am Mainbörnchen), including their T-junctions, in a move to augment relations between the town center and the recreation and activity space that is the River Main embankment, designing them to form one coherent zone.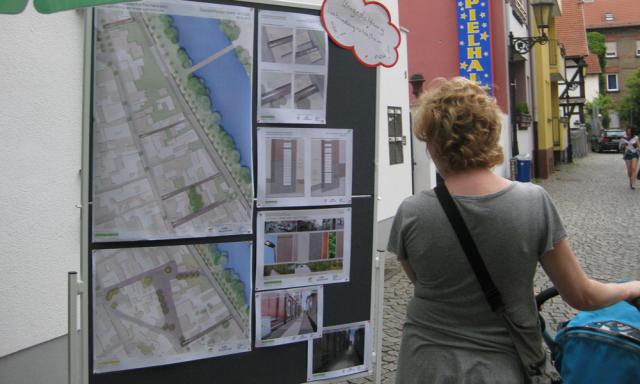 The City Planning Department commissioned the landscape architects at Wiesbaden's exedra Müller & Jansen with the design of a masterplan for these lanes. In an avid exchange with the members of the Local Partnership the resulting concept was fine-tuned and in 2015 debated at the meeting of the Local Consultative Council 11 and at the Linnefest.
The concept envisages the use of a uniform concrete pavement for all lanes. At the T-junctions leading into Alt-Fechenheim and Leinpfad the pavement will feature additional natural stone elements to emphasize special situations here. A guiding pattern made of large concrete slabs is set to direct people's attention and view to the opposite end of each lane. The slabs have the same surface structure as the pavement slabs laid on the Zeil.
The contract for the makeover of these five lanes will be awarded in 2015.