Advertising Rights: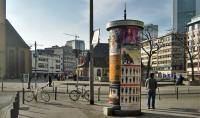 Effective January 1, 2018, the City of Frankfurt/Main re-assigned the right to advertise in and
on municipal spaces. In 2017, as part of a pan-European concession award process, a total
of four individual contracts (known as lots), each relating to a specific form of advertising
medium, were put up for tender:

Lot 1: Mega-lights, city-light columns, and city-light posters
Lot 2: Large spaces and poster columns
Los 3: Commercial information signs and clock columns
Los 4: A1-format event advertising on switching and distribution cabinets

The company Ströer Deutsche Städte Medien GmbH was awarded the contract for all four
lots up until December 31, 2025. For the purpose of implementing and supervising the topic,
the Mayor of the City of Frankfurt/Main set up the Advertising Rights administrative
department. This also serves as the point of contact for citizens and municipal administrative
bodies.
Should you be interested in one of the advertising media put up for tender, please visit the
website www.stroeer.de
Rebate systems for associations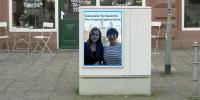 For the City of Frankfurt, providing support for the non-profit associations in the city was an
important concern in the tender process. For this reason, the provisions relating to space

used by several advertisers (advertising columns for event and cultural advertising) and to
event advertising on switching and distribution cabinets have two special rebate systems.

Rebate system 1: 100% discount only against reimbursement of the technical costs
The first rebate system commits the concession holder to make available to Frankfurt's non-
profit associations 10 % of the advertising space used by several advertisers, as well as 10
% of the entire event framework, together with a 100% discount on the media provided. Only
the technical costs for installation and surveillance will be invoiced. These costs amount to
three euros net per poster; It should be noted that the cost of printing is not included.
In order for all entitled associations, regardless of their size, to enjoy the same opportunities,
the service is implemented by means of a communal event calendar. This is organized by
Stadtverband der Frankfurter Vereinsringe, a body that represents the city's associations,
and is currently being finalized. Interested and entitled associations can register on the data
base under the tab "Veranstaltungen" (events) on the website www.stadtverband.de. The
event will then be displayed on the Stadtverband website, as well as in future in the event
calendar.
Rebate system 2: 50% discount on list prices
The contracts for the concession holder also contain the provision that for bookings of their
own on these two types of advertising media (space used by several advertisers and frames
on switching and distribution cabinets), non-profit associations in Frankfurt be granted a 50%
discount on the list price. Should an association wish to make use of this service, it should
contact Ströer Deutsche Städte Medien GmbH directly.
Contact partner(s)
Ms. Sandra Trawny
Telephone: +49 (0)69 212 33123
Fax: +49 (0)69 212 30731
Ms. Valentina Pawelka
Telephone: +49 (0)69 212 74695
Fax: +49 (0)69 212 30731