Frankfurt's new district in the northwest
Between the skyline and the Taunus hills – affordable housing in a well-developed district all of its own
Topic:
Preparatory studies
District:
Local district:
Size of area:
Zirka 190 ha
Project management:
Mr. Antonius Schulze Mönking
Telefon: +49 (0)69 212 36107
Telefax: +49 (0)69 212 30731
Ms. Sabine Guttmann
Telefon: +49 (0)69 212 34351
Telefax: +49 (0)69 212 30731
Project description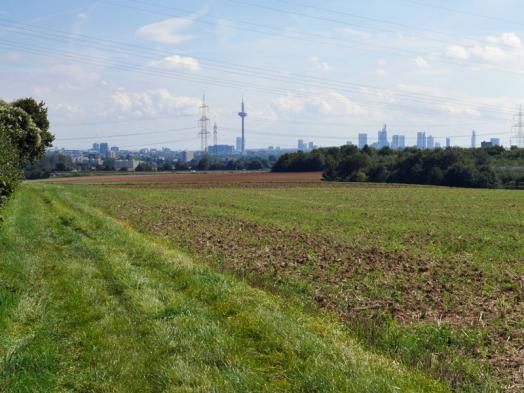 Beyond the districts of Nordweststadt and Praunheim, and to the west of the A5 interstate, the new district in the northwest of Frankfurt will see one or several urban quarters developed catering to 25,000 to 30,000 inhabitants. The idea is to meet the growing demand for housing in the medium to long term and in this way make certain that future Generations will also be able to live in Frankfurt, or indeed move to the city.

The main objective of the urban planning is, through affordable housing, to create homes for people of different ages and with different financial resources. The ratio of subsidized residences will be at least 30 percent of the total. To ensure that a diverse range of forms of housing is available, groups of developers and cooperatives will also be involved. Moreover, parks, plazas, schools, nurseries shops, sport and leisure time facilities will make the quarter a pleasant environment to live in.

The A5 interstate bisects the area in question and causes noise pollution. Both impacts must be countered by adopting appropriate planning means. Noise protection and green bridges, also as partial covering of the interstate, are topics to be investigated.
Plans for the Regionaltangente West (RTW), a new LRT line in the west of Frankfurt, the existing LRT line to Friedrichsdorf (S5), and the possibility of extending the existing U6 subway line beyond the Praunheim / Heerstrasse stop to the new district all provide an opportunity to prioritize public transport strongly over private cars from the outset, and to test new mobility concepts.
PDF files relating to the project
More informations
Starting point – Objectives
Starting point
The Frankfurt housing market is still characterized by a clear prevailing shortage. Almost all market segments report a strong demand for accommodation – and the need for it. The potential afforded by converting existing properties and increasing densities no longer
suffices to meet the needs. Major new developments such as the Riedberg and Europaviertel districts are due for completion in the foreseeable future.
In this context, it has become imperative to develop a new district on the city limits, beyond existing built-up areas. The area for this identified in the northwest of Frankfurt offers enormous potential for the creation of a new district, which can be linked up to the local
public transport system at relatively little cost.
To the east of the interstate, some areas bordering on Niederursel und Praunheim are already entered as residential and commercial areas in the in the Regional Preparatory Land Use Plan (RegFNP).
Objectives
Housing in residential areas needs to be built as quickly as possible complete with all the requisite infrastructure. It is crucial that the neighboring municipalities, in particular Oberursel and Steinbach, be closely involved in evolving the ideas for the new development and be consulted in this regard. Important objectives for the development of the new district are:
8,000 - 12,000 residences for a maximum of 30,000 inhabitants,
the creation of district quarters with a mixture of cooperative and municipal housing, with a mix of privately-owned and prices homes and 30 % subsidized housing,
integration in the regional green and settlement structure and
green boundaries between existing quarters.
Realization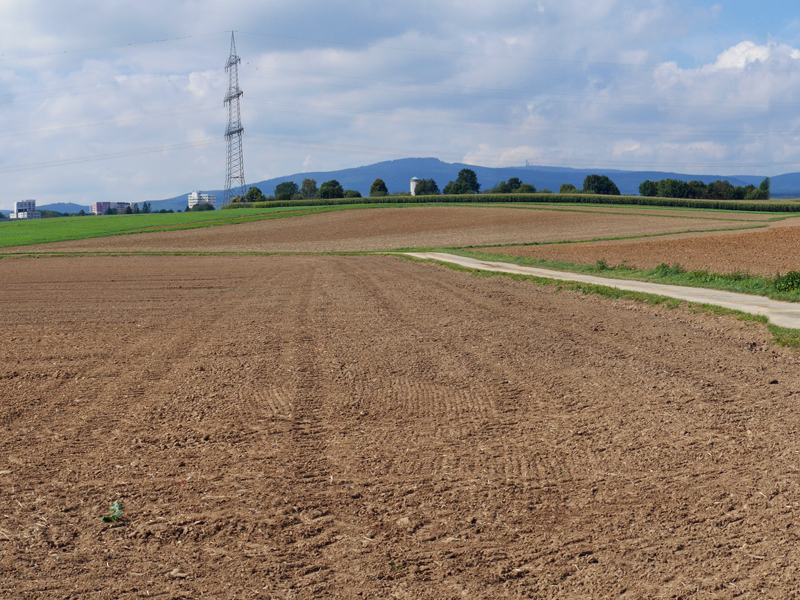 The area will be developed on the basis of an urban development measure in accordance with section 165 BauGB, which in addition to the swift development of the area offers, among others, the following advantages:
the social infrastructure, e.g., schools and nurseries, will be built parallel to the settlement,
building plots will be sold to (project) developers on condition that construction work is completed swiftly,
the price of the plots will be determined by the evaluation team and
speculative investments with plots will be prevented.
Before any urban development measure is conducted, it is important to first establish ist necessity and feasibility.
You will find further information under Preparatory Studies.
Preparatory studies
Preparatory studies
The City of Frankfurt/Main is endeavoring to develop the new district by means of the instrument of an "Urban Development Measure" as envisaged by section 165 ff of the German Town and Country Planning Code (BauGB). The urban development measure presupposes that the swift, uniform development of a particular area is imperative. Prior to the area for development being defined by a development by-law, the municipality must conduct preparatory studies to prove that the criteria justifying the development measure are fulfilled.
Preparatory studies
willingness of the owners to cooperate
urban development concept and master plan
Rough estimation of costs and financing needs
Report on the result of the preparatory studies
In the preparatory studies for the new district, in particular the expert basic evaluations must be examined. Moreover, they also investigate how willing those affected (owners, tenants and leaseholders and other affected persons) are to cooperate. Measuring approximately 550 hectares, the area to be studied is considerably larger than the land that will later actually be developed. On the basis of initial preliminary sketches, we can assume that the gross construction area will measure approximately 190 hectares. Apart from the construction plots, this also includes pathways, roads and plazas, the social infrastructure, and areas of greenery in the residential area.
On December 14, 2017 the City Council passed a resolution that the preparatory studies be conducted.
The findings of the studies will be compiled in a single report. This will serve as the basis for decision-making on the project's feasibility and the extent of the area of the urban development measure.
Legal zoning planning
As part of the preparatory studies, the status of binding planning regulations, i.e., of legally binding legal zoning plans and those currently being drawn up, will be examined. With regard to the section west of the A5 interstate there are no legally binding legal zoning plans, nor are any being drawn up.

As regards the section east of the A5 interstate there are several legally binding legal zoning plans, which by defining specific areas as greened zones and recreational zones, sports grounds, sports areas, public greened zones rule out these being developed for housing. As regards the area west of the Nordweststadt district a resolution was passed in 2014 for the legal zoning plan no. 906- West of Nordweststadt to be drawn up. The objective of the legal zoning plan is "… to enable different forms of housing for the various groups of the population" according to the presentation to the Municipal Authorities of the resolution to draw up legal zoning plan no. 906).
In Praunheim, the draft of legal zoning plan no. 696 – Commercial Area North of Heerstrasse – Section 2 – will now be advanced with the aim of a mixed urban development for commerce and housing; it will then be integrated into the overall planning for the new Frankfurt - Northwest construction area.
You can view further information on current planning regulations in the planAS Information System.
Downloads, an overview
Events
Presentation by Mike Josef, the Head of the Department of Planning of the City of Frankfurt/Main,
outlining the planning ideas for the new district on August 23, 2017 in the Town Hall in Oberursel

Presentation by Mike Josef, the Head of the Department of Planning of the City of Frankfurt/Main,
outlining the planning ideas for the new district on September 27, 2017 in the Titus Forum, Nordweststadt

Presentation by Mike Josef, the Head of the Department of Planning of the City of Frankfurt/Main,
outlining the planning ideas for the new district on November 28, 2017 to the construction committee of the Town of Steinbach.

Presentation by Mike Josef, the Head of the Department of Planning of the City of Frankfurt/Main,
outlining the planning ideas for the new district on January 24, 2018 to the construction and enviroment committee of the Town of Eschborn.

Presentation by Mike Josef, the Head of the Department of Planning of the City of Frankfurt/Main,
outlining the planning ideas for the new district on May 3, 2018 in the Town House in Niederhöchststadt
Policy position
Fragen und Antworten
Daten und Fakten

Werden die ganzen 550 Hektar bebaut?

Nein, die Fläche von circa 550 ha umfasst den Untersuchungsraum. Eine Bebauung inklusive Straßen, Parks, Schulen und Kindertagesstätten erfolgt voraussichtlich auf ungefähr 190 ha Bruttobauland.

Stadtentwicklung

Was ist eine städtebauliche Entwicklungsmaßnahme (SEM)?

Städtebauliche Entwicklungsmaßnahmen sind städtebauliche Gesamtvorhaben in fest umgrenzten Entwicklungsgebieten entsprechend den §§ 165 ff. Baugesetzbuch. Eine städtebauliche Entwicklungsmaßnahme ist zügig und einheitlich umzusetzen. Im Gegensatz zur üblichen Baulandentwicklung wird keine Angebotsplanung erstellt, sondern eine integrierte Entwicklung durchgeführt. Voraussetzung für eine städtebauliche Entwicklungsmaßnahme ist der Nachweis, dass das städtebauliche Ziel mit anderen städtebaulichen Instrumenten nicht zu erreichen ist. Ein weiterer wesentlicher Unterschied zur klassischen Baulandentwicklung besteht in der Pflicht der Gemeinde, die Grundstücke im Entwicklungsgebiet zum entwicklungsunbeeinflussten Anfangswert aufzukaufen. Weiterhin ist die Gemeinde verpflichtet, die Grundstücke wieder mit einer Bauverpflichtung zu veräußern. Aus der Differenz zwischen Kaufpreis der nicht entwickelten Grundstücke und dem Verkaufspreis der Baugrundstücke finanzieren sich die Erschließungsanlagen und die soziale Infrastruktur (Schulen, Kindertagesstätten usw.).

Wohnen

Wer soll in dem neuen Stadtteil wohnen?

Ziel der städtischen Planungen ist es, für Menschen verschiedenen Alters und in unterschiedlichen Lebenssituationen durch bezahlbaren Wohnraum eine neue Heimat zu schaffen.

Wie hoch soll der Anteil an geförderten Wohnungen sein?

Die Quote der geförderten Wohnungen wird bei mindestens dreißig Prozent liegen. Auch Bauherrngruppen und Genossenschaften sollen berücksichtigt werden, so dass ein Angebot vielfältiger Wohnformen entsteht.

Entsteht hier eine Trabantenstadt?

Nein, die Stadt Frankfurt am Main wird dafür Sorge tragen, dass alle Anforderungen der zukünftigen Bewohner an einen modernen Stadtteil erfüllt werden:

Angebot vielfältiger Wohnformen in unterschiedlichen Wohntypologien
Private Freiflächen, die zum Beispiel als geschützte Blockinnenbereiche Begegnungen innerhalb der unmittelbaren Nachbarschaft ermöglichen
Einkauf in fußläufiger Entfernung
Versorgung mit Ärzten, Kneipen und Restaurants und sonstigen Dienstleistern
Vielfältiges Mobilitätsangebot mit einem Schwerpunkt auf dem öffentlichen Nahverkehr und der Fußgänger- und Radmobilität
Ein breites Angebot an Kinderbetreuungsplätzen, von der Krippe bis zum Hort, Grundschulen und eine weiterführende Schule
Ein vielfältiges Angebot an Sportanlagen und Freizeiteinrichtungen, die ein breites Vereinsleben befördern
Angebot für religiöse Einrichtungen
Gut gestaltete, klar definierte öffentliche Räume, die Begegnung auf lebendigen Plätzen und Rückzug auf ruhigen Grünflächen ermöglichen
Arbeitsplätze in den gemischten und gewerblichen Bereichen

Wann kann ich eine Wohnung kaufen oder mieten?

Sofern die Stadtverordnetenversammlung nach einem positiven Ergebnis der Vorbereitenden Untersuchungen eine Entwicklungsmaßnahme beschließt, können voraussichtlich ab 2025 die ersten Wohnungen erworben werden. Wartelisten für den Kauf von Grundstücken oder Wohnungen gibt es nicht.

Umwelt und Klima

In welcher Weise wird das Thema Klima berücksichtigt?

Das Untersuchungsgebiet ist heute zum großen Teil Kaltluftentstehungsgebiet.

Im Rahmen der vorbereitenden Untersuchungen erfolgt eine klimatische Untersuchung für das Untersuchungsgebiet und sein Umfeld. Hierbei wird die Bestandssituation analysiert und die Auswirkungen von baulichen Maßnahmen auf die Kaltluftentstehung und den Kaltlufttransport sowie die Belüftung betrachtet.

Mögliche Optimierungsmaßnahmen können beispielsweise das großzügige Freihalten von Kaltluftschneisen (Täler und Bachläufe), strömungsoptimierte Baukörperstellungen und Dach- und Fassadenbegrünung sein.

Was passiert mit den Trinkwasserbrunnen an der Heerstraße?
Wie wird mit den Stromtrassen umgegangen?

Durch das Untersuchungsgebiet verlaufen mehrere Stromtrassen von regionaler und überregionaler Bedeutung. Die Funktionalität dieser Trassen ist grundsätzlich zu erhalten. Welche Spielräume bestehen, diese Trassen horizontal als auch vertikal (Erdkabel) zu verlagern oder neu zu organisieren, wird im Rahmen der vorbereitenden Untersuchungen ermittelt. Auch der Umgang mit den Abstandsforderungen von 200 Metern beziehungsweise 400 Metern zu Wohngebäuden aus dem Landesentwicklungsplan wird im weiteren Verfahren geklärt.

Landwirtschaft

Was passiert mit der Landwirtschaft?

Landwirtschaftliche Betriebe sind durch neue Bauflächen und die dafür benötigten Ausgleichsflächen als Eigentümer und auch als Pächter von Flächen betroffen.
Im Rahmen der vorbereitenden Untersuchungen wird der Umfang der Betroffenheit untersucht und Lösungsmöglichkeiten mit den Landwirten erarbeitet, wie die möglichen Folgen angemessen berücksichtigt werden können.

Welche Maßnahmen werden zum Ausgleich getroffen?

Sofern durch bauliche Maßnahmen in Natur und Landschaft eingegriffen wird, ist es auf Basis der bestehenden gesetzlichen Regelungen immer erforderlich, zu prüfen, inwieweit Eingriffe vermieden bzw. vermindert werden können. Gelingt dies nicht, wird ein naturschutzrechtlicher Ausgleich erforderlich. Primär sind Ausgleichsmaßnahmen innerhalb des betreffenden Plangebietes vorzusehen, z.B. durch Grünflächen und Gehölzpflanzungen. Sollte dies nicht möglich sein, werden Ausgleichsflächen an anderer Stelle im Naturraum gesucht.

Mobilität

Wie wird der neue Stadtteil erschlossen?

Die äußere Erschließung des neuen Stadtteils kann nur über das bestehende Straßennetz in den zum Untersuchungsgebiet angrenzenden Stadtteilen und Nachbargemeinden erfolgen. Hierbei ist eine ausführliche Kapazitätsüberprüfung des bestehenden Straßennetzes durchzuführen, um eine Überlastung des Bestandsnetzes schon im Vorfeld möglichst auszuschließen. Ein besonderes Augenmerk auf ein gutes und leistungsfähiges System des öffentlichen Personennahverkehrs (ÖPNV) mit einer durchdachten Verknüpfung an den Bestand zu legen, so dass die Belastungen durch den motorisierten Individualverkehr (MIV) möglichst gering bleiben. Ein umfangreiches Radverkehrsangebot unterstützt auch die Vermeidung von MIV-Fahrten.

Wie wird mit der Ortsumfahrung Praunheim umgegangen?

Die Beschlüsse der Stadtverordnetenversammlung zur Ortsumfahrung Praunheim gelten nach wie vor. Im nordöstlichen Abschnitt wird sie zukünftig auch der Erschließung des neuen Stadtteils dienen und nicht mehr anbaufrei sein.

Gibt es einen autofreien Stadtteil?

Ein komplett autofreier Stadtteil ist in dieser etwas peripheren Lage schwer vorstellbar.
Eine Reduzierung des MIV-Anteils ist jedoch (wie auch schon oben erwähnt) durch ein gutes ÖPNV-System und eine durchdachte Radverkehrsinfrastruktur durchaus erreichbar.

Wie wird auf die Zerschneidung durch die Bundesautobahn 5 reagiert?

Im Rahmen der vorbereitenden Untersuchungen wird 2019 ein städtebaulicher Ideenwettbewerb durchgeführt werden, der insbesondere zu diesem Thema Lösungen entwickeln soll.

Wie wird mit dem Lärm der Bundesautobahn 5 umgegangen?

Die BAB 5 stellt aufgrund ihrer Verkehrsbelastung, die durch die geplante Erweiterung der Fahrspuren noch anwachsen wird, eine erhebliche Lärmquelle dar.
Im Rahmen der vorbereitenden Untersuchungen wird ein Lärmgutachten erstellt, in dem anhand eines prognostizierten Verkehrsaufkommens die Belastungsräume ermittelt und mögliche Lärmschutzmaßnahmen geprüft werden.

Informations- und Beteiligungsangebot

Wie kann ich mich beteiligen?

Die Stadt wird im Rahmen der beschlossenen vorbereitenden Untersuchungen zur Ermittlung der Mitwirkungsbereitschaft auf die einzelnen Grundstückseigentümer und Pächter im Untersuchungsgebiet zugehen. Wenn das Grundstück in der bebauten Ortslage von Niederursel, Praunheim oder der Nordweststadt liegt, ist in der Regel keine weitere Entwicklung des Grundstücks zu erwarten. Eigentümergespräche erübrigen sich in diesem Fall.

Über das Kontaktformular auf der Internetseite können jederzeit Anregungen gegeben und Fragen gestellt werden. Im weiteren Verlauf der vorbereitenden Untersuchungen werden weitere Bürgerinformationen stattfinden.

Bei weiteren Fragen freuen uns wir Ihnen weiterzuhelfen. Kontaktieren Sie einfach die untenstehenden Ansprechpartner.
Mr. Antonius Schulze Mönking
Telephone: +49 (0)69 212 36107
Fax: +49 (0)69 212 30731
Ms. Sabine Guttmann
Telephone: +49 (0)69 212 34351
Fax: +49 (0)69 212 30731