Further resolutions relating to the development of the Ernst May district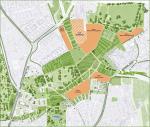 In April 2017, the City of Frankfurt/Main staged an ideas competition for urban development and landscaping plans for the "Innovation Quarter" with a view to fleshing out the basic planning concept for the entire area between Friedberger Landstrasse, Wasserpark, Kleingartenweg, and Münzenberger Strasse. The public was involved in the competition. At a public colloquium on June 23, 2017, the six planning firms involved presented and discussed their initial findings. The event also constituted the early civic participation forum that forms part of legal zoning planning procedure no. 880.
The decision on the outcome of the competition was made at a second public colloquium followed by a closed jury session. The winning design forms the basis of the legal site planning procedure.