Augmenting the gateways to Fechenheim
A Local Partnership working party undertook an in-depth review of the gateways to Fechenheim's town center. Together they identified the locations that Fechenheim's residents and visitors to the town both use alike. As "gateways into the district" these leave a lasting impression. However, at the time some of these locations were dominated by containers, which impaired the otherwise appealing quality of the streetscapes.
As a first step on the way to improving the situation, in 2013 the bottle banks and recycled clothing collection points on the corner of Jakobsbrunnenstrasse and Willmannstrasse as well as at the Alt-Fechenheim streetcar stop were relocated with the help of the German Red Cross and Veolia Umweltservice GmbH. Since implementing this measure, the small square on Jakobsbrunnenstrasse has been restored to its former quality as an attractive open green lined by mature trees.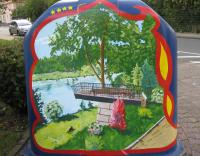 In close consultation with the Local Partnership, in the fall of 2013 Fechenheim artist Pat Vanhöfen set about giving the recycled clothing bank opposite the Alt-Fechenheim streetcar stop an artistic makeover. Further such facelifts followed in the course of 2014. The bottle banks on Fechenheimer Kleedreieck, in front of the JUZ youth center on Starkenburger Strasse, and on Konstanzer Strasse were upgraded thanks to Pat Vanhöfen's artistic projects. The people of Fechenheim were very enthusiastic in their involvement in the campaign.