Lighting concept for the banking district
Masterplan Licht Bankenviertel
Project description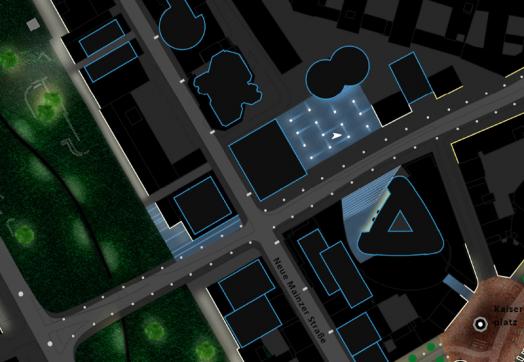 Reason for planning
Further to its commitment to balance the different demands made of public space, the City of Frankfurt intends to propose a concept for lighting the banking district that will harmonize the city's nightscape. To this end, the City seeks to put in place an overarching masterplan that will enhance the quality of the urban fabric and ensure a sustainable use of energy. The aim is to counteract the potential danger of a situation in which individual concepts compete to outdo each other in their intensity and effects.
Development district
The assessment focused on the central banking district and the streetscapes immediately adjacent to it between Hauptwache, the Wallanlage green belt and the Main embankment in the western part of the inner city. The neighboring high-rise locations in the east of the Bahnhofsviertel district and along Mainzer Landstrasse were likewise evaluated.
Planning objective
The aim of the assessment was to devise and develop a general concept for the illumination of the banking district, consisting of a masterplan for lighting and individual concepts for high-rise illumination that highlight the buildings without this being to the detriment of city life. The task also involved exploring a potential directive or guideline on light.
Planning progress
The illumination masterplan for the banking district, comprising general design criteria for illumination as well as six individual concepts for high-rises, was finalized in 2006. On its basis, an illumination guideline or directive for high-rises is currently being devised.
PDF files relating to the project