Dialogue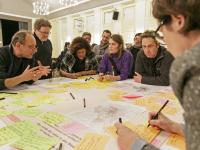 Many have to help carry the strategies for the development of a city. For this reason, the Frankfurt City Council has decided to advance the fundamental principles, goals and strategies of the urban development concepts to be devised – by ensuring the process hinges on broad-based public participation.
During a kick-off event in September 2015 the goals and the procedures for the integrated urban development concept were presented to the public.
Subsequent dialogue with interested members of the public then evolved in tandem with the phases in which the integrated urban development concept was prepared. The sets of results acquired at each stage were presented to the public and discussed.
The first citizens' forum, held in July 2016, provided all those interested with the opportunity to inform themselves on the current status of urban development and future challenges. At the same time the event also launched a call for ideas. Over the course of one month, members of the public were invited to submit ideas on how they thought Frankfurt should develop in the future. In order to ensure a wide range of opinions were voiced, anyone interested could participate in a number of different ways: These included the ideas brunch on Goetheplatz as well as the ideas tour to 16 different locations within the city limits, such as for example the weekly market in Höchst and Bornheim or the shopping street in Rödelheim. In parallel, ideas could also be communicated online. As a result, around 1,500 ideas and suggestions were collated.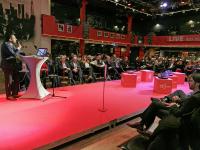 Civil dialogue continued in November 2016. The four decentralized citizens' forums focused on scenarios for spatial development. A further 1,000 contributions were collected during the citizens' forums and the ongoing opportunities for online participation. During this dialogue phase, the focus was placed on the desired qualities of and foreseeable demands on new and existing urban quarters, the infrastructure requirements, and future mobility behavior.
In parallel to the participation of the public at large, experts from the realms of civil administration, science and urban society were invited to participate in three expert dialogues.
The contributions to the dialogue as a whole have been incorporated into the further compilation of the integrated urban development process.
The documentation of the dialogue is available for download below.
On June 24, 2019 the integrated urban development concept was presented to the public. The participants joined City Councilor Mike Josef and Frankfurt experts from the worlds of research, business and civil society to discuss the objectives and possible development strategies for Frankfurt/Main.

Moreover, there was an opportunity to post questions and comments on a pinboard. The questions were subsequently answered and are to be found lower down on this page as in the Q&A list as a PDF you can download.