Individual concepts for high-rise illumination
The next stage in the challenging task of high-rise illumination was to develop individual concepts. Interested investors were shown the immense potential for the illumination of buildings that, while blending in with the overall cityscape, will nonetheless accentuate the company's image. What is important in this context is that relative to their appearance during the day, the high-rises' night image does not distort what they look like.
When devising the individual illumination concepts, which have been developed on the basis of the masterplan, the City of Frankfurt relied on a number of light planners, architects and artists and (specifically with regard to those high-rises that cut across both private and public interests) closely collaborated with the parties concerned.
Preliminary concepts for individual high-rises were then drawn up on the basis of the general design criteria; each of them culminated in a specific illumination proposal that would benefit the overall cityscape.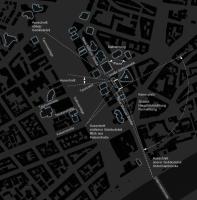 Here again planning started with the structural analysis of the high-rise and its location. The key objective was to determine the urban side to the high-rise illumination and to revisit the design criteria that then formed the recommendations for planners and architects.
Aside from feasibility, aspects such as interaction within the urban context, daytime and nighttime appearance of the architectural structures, the protection of our cultural heritage and the ambient surroundings, economic viability, identity, neon advertising and light pollution were all examined. Low energy solutions were accorded particular relevance.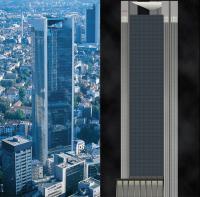 To name an example: the architects at Dietz Joppien teamed up with luna lichtarchitektur light engineers to develop a new illumination concept for the Trianon high-rise. The envisaged exterior light concept is destined to ensure a clear night-time profile for the building's extraordinary facades, which ensure it stands out during the day.
Moreover, low-energy consumption alternatives are proposed for the tetrahedron, which is already illuminated. The new option makes use of the properties of the semi-reflective material that clads the existing structure.
The new concept will illuminate the entire building but have a lower energy balance.