Fechenheim - Vibrant Centers
Urban renewal process as per the Federal-State Program for "Vibrant Centers – Preserving and Developing District & Town Centers" (formerly Energizing Centers – Fechenheim")
Topic:
Urban revitalization
District:
Local district:
Size of area:
31 ha
Project management:
Ms. Heike Kuhn
fone: +49 (0)69 212 30572

Project description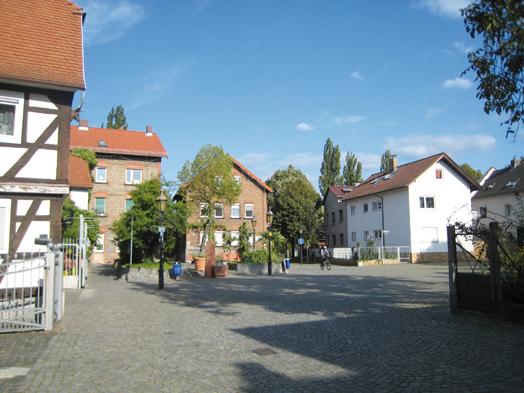 Reason for planning
Through a resolution adopted by the State of Hessen on October 31, 2008 the district center of Fechenheim was included in the "Energized District Centers in Hessen" (new name: "Vibrant Centers") urban development support program.
As a district defined by industry, Fechenheim has been especially affected by economic, demographic and social structural change for decades now. In particular, on account of deindustrialization and the loss of local employment opportunities in which this resulted, the district has an above-average unemployment rate.


Development area
The area for which the funding has been designated for covers approx. 31 hectares and extends from the main commercial district on the road called Alt-Fechenheim. It contains the surrounding roads with all the relevant retail and commercial spaces, as well as those with potential. In the west it is bordered by Konstanzer Strasse and Fachfeldstrasse, in the east by the River Main. The entrances to the main commercial district on Alt-Fechenheim, from the streetcar turnoff in the north to the edge of the cemetery in the south, and from there via Einbiglerweg, Starkenburger Strasse and Sedanstrasse to Fachfeldstrassee, are further boundaries.
Planning objectives
To date the possibilities that Fechenheim offers in terms of retail and supply, housing, culture, leisure time and as a place to work has not been sufficiently exploited. Getting local players and initiatives actively involved and networking them will have a positive impact on development and strengthen Fechenheim's competitiveness.
In addition to strengthening the main shopping street in the district center, thereby improving the supply of basic needs, further objectives are to create new housing, modernize buildings that define the district's appearance, and enhance roads and open spaces. In this context, the location directly by the River Main harbors enormous potential.

Project progress
Adopted by the City Council on March 25, 2010, a resolution in accordance with section 171 b of the German Building Code (BGB) formally determined the development area to be an urban restructuring area.
The integrated action plan forms the planning basis for implementation of the "Energized District Centers – Frankfurt Fechenheim" support program. It is the strategy for breathing new life into the district center and also forms the work plan for the entire duration of the process. It serves to communicate the projects to citizens, investors, and other players in the district center. The City Council adopted the integrated action plan on September 30, 2010.

"District center management" constituted a crucial element of the integrated approach of the public-private partnership rejuvenation program; the scheme included the relevant players and provided the population with information about various measures and issues associated with the "Energized District Centers" support program..
Between April 2011 and the end of 2019 Deutsche Stadt- und Grundstücksentwicklungsgesellschaft mbH & Co. KG (DSK) was responsible for the district center management in Fechenheim. The neighborhood office on Alt-Fechenheim opened in May 2011, and on selected days employees of DSK were available for contact by citizens.

During this time numerous measures were implemented, for example the redevelopment of the forecourt in front of Childcare Center 27, the makeover of the alleyways leading to the banks of the River Main, the development of a district logo and the open-air gallery, and played a considerable role in improving the district's image. Explanations of the individual projects and further information is available under "More information – measures and individual projects".
The new project included is the playground and leisure area on Konstanzer Strasse, a hitherto unbuilt zone located on the corner of Bodenseestrasse and Konstanzer Strasse. The project has been registered with the Support Office and is therefore not included in the integrated action concept. Since the area lies outside the section covered by the support program thus far, the City Council had to agree to the expansion of the zone covered by grants; the resolution was passed on March 26, 2020 (see the current map of the area covered by the support program).

With the "Energized District Centers – Frankfurt Fechenheim" program having run for over ten years, the period of active support for the measure as a whole has come to an end. However, implementation of the support program has not yet been concluded. Further projects will be conducted as part of the program, and the relevant information will be announced here. In future too, meetings with the Local Partnership participation committee to discuss measures will still be held in the neighborhood office (former district management office) or as an online session. The "Energized District Centers" program in Fechenheim is expected to run up to and including 2024.

With a view to keeping the "Stadtteilbüro" neighborhood office open after the end of the district center management team's project, the premises have now been taken over (financed by Frankfurt's "Active Neighborhood" program) by the successor organization, the "Nachbarschaftsbüro Fechenheim" and Programm "Aktive Nachbarschaft") and as of February 2020 remain open to citizens.


To the district management page
PDF files relating to the project