Early participation of the public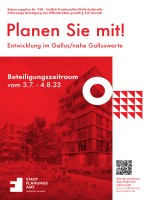 The public is informed at as early a point in time as possible on the general objectives and purposes and the possible impact of planning. The information also considers possible alternative plans that could be evolved for the redesign or development of the area covered by the plan. Moreover, the plans are presented and discussed at public information events. As a rule, this happens during meetings of the Local Consultative Council in the respective district, where you have the opportunity to state your opinion and reservations and offer ideas.
Poster for timely public involvement, this example legal zoning plan no. 919 "Am Römerhof", © Frankfurt/Main City Planning DepartmentThe dates of these events are announced in due time in the official City of Frankfurt Gazette and are also publicized in daily newspapers and on posters. Moreover, visitors' attention is also drawn to these dates on our Internet portal on the News page and on the Current Participation page.
The results of involving the public are then factored into the subsequent elaboration of the draft development plan. To this end, minutes are kept of the event and the City Planning Dept. evaluates them. The planning then gets reworked in light of the comments and possibly changed on the basis of the ideas aired. As a rule there is no renewed hearing. The procedure of timely public involvement is laid out in section 3 (1) German Building Code.
Timely involvement of the authorities
The timely involvement of the authorities ensures that neighboring local authorities, and other public agencies as well as the municipal departments, municipal utilities and municipally-owned companies are all informed of the resolution to secure planning approval. In this context, information is provided on the general objectives and purposes of the planning and a request made that the authorities comment on it and specifically state whether they feel an eco-audit is required, on what scale and in what depth.
Public interest agencies are authorities and agencies which must fulfill duties and plans in the public interest. Municipal plans for the use of land touch on their range of duties. Examples of public interest groups are The Regional Government in Darmstadt, the FrankfurtRhineMain Regional Authority, the State authority for the Preservation of Monuments., the Chambers of Commerce and Industry, as well as churches, utility companies, and Deutsche Bahn AG.