Frankfurt +2030
Integrated urban development concept

Frankfurt attracts people and companies. The city is growing and will change even more over the next few years. The changes create new opportunities, but also spell challenges for the city, for the people who live here, and the businesses based here.

Where and how can Frankfurt change? How can we reconcile the growth and the land needed for housing and work with the preservation of open spaces and the development of social and transport infrastructures? How, at the same time, can we meet the needs of climate protection and the requirements entailed in adapting to climate change? At what point are the limits to growth reached, and how much density can the city cope with?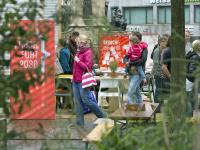 In order to come up with a clear, joint idea of the City of Frankfurt's future, the City Council tasked the City Executive with developing an integrated urban development concept (resolution 4542 dated May 22, 2014).

The aim of the urban development concept is to define strategies for the city's desired functional and spatial development and to determine lead projects and priority focusses with regard to urban space.

The integrated urban development concept was drawn up on an interdisciplinary and cross-departmental basis and in dialog with the general public.
At its meeting on November 7, 2019 the Frankfurt City Council resolved that the Integrated Urban Development Concept serve as a strategic guiding framework and action plan for the medium-term development of the city (City Executive Proposal no. M 105). All departments of the City of Frankfurt/Main are required to play their part in realizing the objectives formulated therein, and to observe the guidelines. In future the concept must also be taken into account with regard to legal zoning plans. The lead projects and initiatives listed in the Integrated Urban Development Concept Frankfurt 2030+ will be implemented and the development of the defined geographical priorities for urban development coordinated and prepared on a cross-departmental basis.

To the Concept subpage

The City Executive's Proposal no. M 105 on the Integrated Urban Development Concept (IUDC) and its annexes are available for download as a PDF.
Contact partner(s)
Mr. Peter Kreisl
Telephone: +49 (0)69 212 35997
Fax: +49 (0)69 212 30731