Frankfurt/Main and the Rhein-Main Region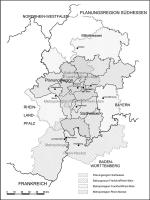 In the international competition to attract residents and companies, the regional level is growing in importance in a "Europe of regions". The City of Frankfurt is the prominent hub of the prosperous, functionally strongly intertwined and polycentric metropolitan region of Frankfurt Rhein-Main, which boasts a population of some 5.5 million. The development of the area is influenced by a wide range of private and public players. FrankfurtRheinMain Regional Authority and the Regional Administrative Authority in Darmstadt are the public institutions, which, with their own planning tools and activities, are a major influence on the development of the region and the City of Frankfurt, while vice versa, decisions made by Frankfurt also impact on the region. For this reason, in this interplay urban development planning in Frankfurt has long since also taken into account the role the city plays in the region and the country as a whole.
The cities in the region are closely intertwined with one other and can only meet the ecological, social and economic challenges set upon them if they join forces with one another in order to prevent cut-throat competition. In the global competition between centers they can only survive if they act as a single entity. For this to succeed the institutional framework conditions governing spatial planning must in this sense fit be for the future. Since the mid-1990s deliberations on the organization of regional cooperation, the demarcation of planning areas, and regional planning tools have featured ever more strongly in the municipal planning department's work. However, the fact that there is need for improvement here did not just become apparent with the political and specialist discussions of the past few years about the introduction of a district planning authority (see below: PDF file of "Regional Conference leaflet"); to be precise the City of Frankfurt has been putting concepts for improved regional cooperation up for discussion since the mid-1920s. Since April 1 2011, cooperation between the various municipalities in the conurbation and the structure of the Regional Authority FrankfurtRhein has been regulated by the "Act governing the Metropolitan Region of Frankfurt/Rhein-Main (MetropolG)".