Frankfurt Program for the Construction of Affordable Rental Accommodation:
Promotion Means 2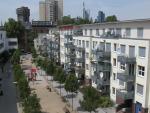 Households whose income is not significantly higher than the income threshold as defined in
the Act to Promote New Residential Properties (HWoFG) also have difficulties in Frankfurt
finding appropriate accommodation with acceptable rents.

Awarding interest-free loans and subsidies for the construction of family-friendly and
communally used, duly scaled and barrier-free rented apartments is intended to increase and
make more attractive the housing available to these households. The rents for the
apartments will be fixed in three tiers, thus creating an appropriate rent level quota for the
households.

The Program for the Construction of Rental Accommodation is open to all developers who
have, or will have suitable residential building land in Frankfurt.
Contact partner(s)