Commercial Site Register of the City of Frankfurt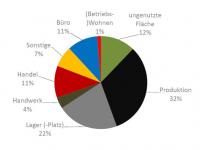 The City of Frankfurt Commercial Site Register lists and evaluates Frankfurt's commercial and industrial sites as geo-information in terms of usage type and site potentials. The different data collection periods, namely 2004, 2009, 2013 and 2016, enables monitoring of the sites to reveal the development trends in urban design as well as the spread and extent of the potential afforded by the industrial and commercial estates.
The categories used to cover main urban usages, e.g., manufacturing, service facilities, etc. enable a rough overview to be given on the mix of uses at the different locations. This in turn allows the experts to deduce what actions will be needed to secure and/or develop the areas in question.
As regards the potentials of the various sites, a distinction is made for example between potential for growth and brownfield sites. However, no statements are made as regards site availability.
Should you have any questions on locating to one of the sites or are searching for real estate, please contact the business development agency Wirtschaftsförderung Frankfurt GmbH (http://www.frankfurt-business.net/de/).
Contact partner(s)
Mr. Thomas Hickmann
Telephone: +49 (0)69 212 34930
Fax: +49 (0)69 212 30731