Honsellstrasse
Land-use planning proceedings no. 799Ä - Honsellstrasse - 1st amendment
Topic:
Urban development draft, Housing, Offices
District:
Local district:
Size of area:
11 ha
Project management:
Ms. Julia Treuger
Telefon: +49 (0)69 212 31942
Telefax: +49 (0)69 212 30731
Project description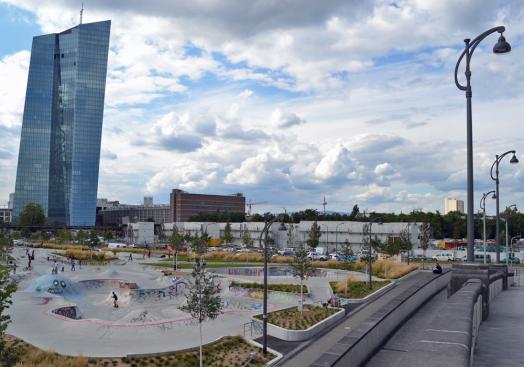 Reason for planning
In the 1990s, the property at the heart of the amendments made to the development plan was earmarked for the construction of a shopping mall. The legally binding development plan no. 799 issued in 2011 specifies a restricted center zone, which forms the basis for establishing office buildings, hospitality offerings as well as cultural and recreational facilities. The plan excludes extensive retail outlets and residential spaces.
The new urban development concept envisages a combination of office and residential buildings for the zone. The concept is convincing because it vitally stimulates the development of a residential quarter in Frankfurt's Ostend district, east of the railroad track. At the same time, it makes available sites for other European institutions and/or related office facilities in the vicinity of the European Central Bank, albeit without using too much space otherwise suitable for residential purposes. Plans for a high-rise on Hanauer Landstrasse, which is not allowed to exceed a maximum height of 60 meters, have that same tenor. Extensive retail outlets serving the district are still not envisaged, because the infrastructure requirement resulting from the residential development will be covered in the planning process going forward.
Proximity to the green embankment of the River Main, superb public transport links and the fact that workplaces, educational institutions and commercial supply services are all within easy reach makes the location nigh ideal for the planned mix of residential and office use.
The downside: The new residential location will be situated not far from the rail traffic passing over the bridge on the Main and the sports fields in Hafenpark. Plus, it will be in the neighborhood of businesses located in Unterhafen port and therefore be exposed to considerable potential noise. These factors will be taken into account and remedied by the positioning of buildings, alignment of their footprints, and structural solutions in the planning going forward.
The usage restrictions specified for the area of the Hafenpark and the tip of the harbor mole have been dropped. The reason: Changes have been made to a plant subject to hazardous incident regulations and this means that the requisite safety cordon distance has been reduced. Consequently, the relevant areas of the park and the property situated on the central harbor mole will now be integrated into planning procedures in a move to rectify restrictive regulations.
Legally binding development plan no. 799 – Honsellstrasse has to be changed for the above-illustrated urban planning project and the legal amendments to be realized. This will be achieved by the land-use planning proceedings B 799Ä – Honsellstrasse – 1st amendment.
Development district
The zone in question spans the building complex bounded by Hanauer Landstrasse, Honsellstrasse, Mayfarthstrasse and Eytelweinstrasse. In addition, the ambit also includes the entire Hafenpark grounds and the plot on the tip of the harbor mole. The planning zone thus amounts to approx. 11 hectares in total.
Planning objectives
Amendments have been made to the existing planning laws to ensure that significant portions of the zone between Hanauer Landstrasse, Honsellstrasse, Mayfarthstrasse and Eytelweinstrasse will be dedicated to residential purposes and related services and amenities (e.g., a child daycare facility). Moreover, a high-rise on Hanauer Landstrasse will provide extensive office space on a relatively small footprint. The plot on the tip of the harbor mole is being prepared for unlimited use as a hotel / temporary accommodation. Hafenpark in its entirety will be designated as a public green with the existing function as Hafenpark complete with its sports fields.
Project progress
The urban planning design by AS&P; Albert Speer und Partner provides the basis for establishing the development plan and the amendments made to existing planning law. It also provided the concept for detailing the resolution to establish planning of September 25, 2014. In line with section 3 (1) of the German Building Code (BauGB), citizens had the opportunity to voice their opinions at the meeting of Local Consultative Council 4 on November 4, 2014. Authorities were able to become involved in the planning between February 23 and March 23, 2015, as per the stipulations of section 4 (1) of the German Building Code. At present the wording of the legal amendments is being prepared for public disclosure and involvement of the authorities. These steps in the procedure are envisaged for mid 2017.
PDF files relating to the project
More informations
Projektumsetzung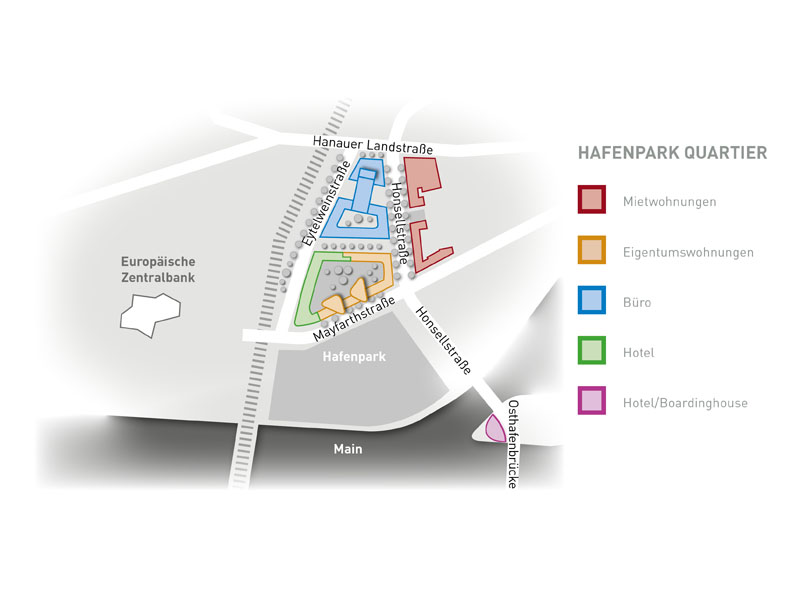 Mit Rechtskraft des Bebauungsplans wird die planungsrechtliche Grundlage für die Umsetzung des Projektes und die Entstehung des Hafenpark-Quartiers geschaffen. Das Areal befindet sich unmittelbar am Main, nahe dem neuen Sitz der Europäischen Zentralbank, auf dem sogenannten Honselldreieck. Mit dem Hafenpark-Quartier entsteht ein gemischtgenutztes Viertel aus Freiraumnutzung, Wohnungen, Kindertagesstätte, Büros und Hotels. Das Bauvorhaben erstreckt sich über den Geltungsbereich des Bebauungsplanes hinaus. Mit dem Baufeld Ost entstehen nach § 34 BauGB, in direkter Nachbarschaft, aktuell 2 Gebäudekörper mit Wohnnutzung und Wohnfolgeeinrichtungen.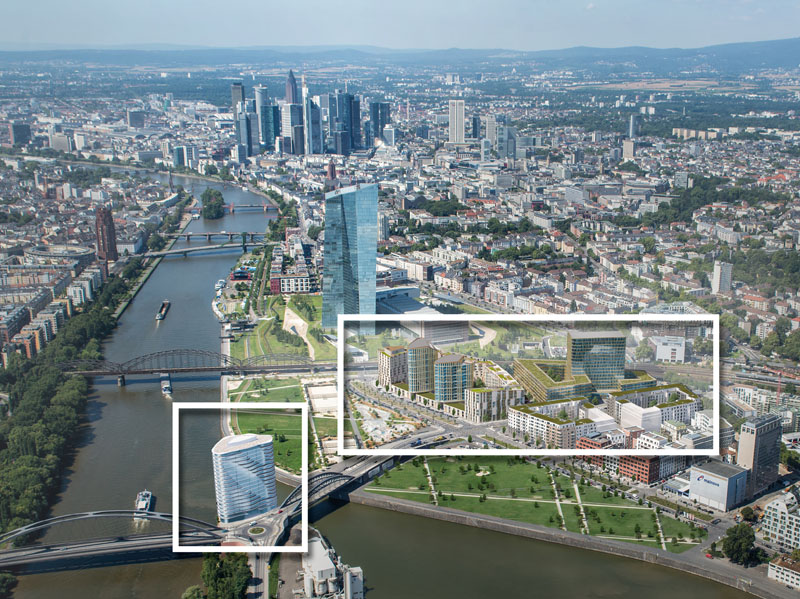 Hafenpark Quartier Baufeld Süd – Wohn- & Hotelimmobilie
Im südlichen Bauabschnitt entstehen hochwertige Eigentumswohnungen mit Ausblick auf den Main und die Frankfurter Skyline. Das Gebäudeensemble um einen begrünten Hof bilden zweigeschossige Stadthäuser, Apartmentwohnungen und Penthäuser. Die besonderen Merkmale des Siegerentwurfes aus dem Architekturwettbewerb sind zwei Wohnhochhäuser mit 52m und 58m Höhe, die die Außenwirkung des Quartiers an der Wasserseite prägt. Der Entwurf stammt von Hadi Teherani Architects aus Hamburg (siehe PDF) .

Das Hotelgebäude ist Teil des Entwurfes, mit dem der Architekt Hadi Teherani den von der B&L Gruppe und der Stadt Frankfurt ausgeschriebenen Wettbewerb für sich entscheiden konnte. Die Planung sieht eine Immobilie für das Hotel des skandinavischen Marktführers Scandic vor (siehe PDF).

Hafenpark Quartier Baufeld Nord - Büroimmobilie
Im Baufeld Nord ist eine Büroimmobilie als Ensemble mit drei Gebäudeteilen an der Hanauer Landstraße geplant. Der Office Tower bildet dabei mit einer Höhe von rund 60 Metern das weithin sichtbare Highlight des neuen Quartiers. Für die Umsetzung des Vorhabens ist ein architektonischer Wettbewerb in 2019 geplant.
Hotelhochhaus Molenspitze
In prominenter Lage am Main, plant die B&L Gruppe im südlichen Anschluss des Hafenparkquartiers ein Hotelhochhaus. Für dieses Projekt ist ein hochwertiges Hotelkonzept geplant. Der architektonische Wettbewerb fand in 2018 und die Preisgerichtssitzung im Februar 2019 statt. Den Siegerentwurf plante das Architekturbüro Barkow Leibinger aus Berlin. Der Baukörper zeichnet sich durch seine mehrfach gefaltete, vertikal gegliederte Glasfassade und seine klare Kontur aus dem leicht versetzten Zuschnitt der drei Spitzen aus (siehe PDF).