Communications
Public relations and image formation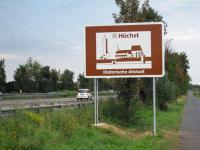 Creating a positive image for the district of Höchst is a key objective. However, the aim here is not to pursue individual strategies on a sector-by-sector basis, but to forge and network synergies for the best possible development of the district. Since the start of the support program various projects have been launched and district initiatives promoted. Projects completed in recent years include, for example, a city guide app featuring 15 locations and interstate signposting informing drivers that Höchst is a historic town ("Altstadt Höchst").
Early 2014 saw the start of the "Höchster Buben / Höchster Mädels" (Höchst boys / girls) campaign, which involved large posters of two or three boys and girls from Höchst promoting the district and advertising its typical look-and-feel. Initially, the posters were displayed in a number of stores and vacant premises in the district before they moved to various exhibition venues, including some outside the district. Now they are on permanent display in the Höchst medical center.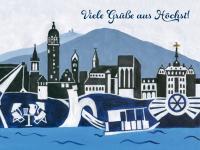 A postcard competition themed "Greetings from Höchst" was held from June to mid-September 2014. Postcards could be entered digitally or digitized in mobile pop-up studios positioned in various locations in Höchst and boasting all the necessary technical equipment. After the jury had selected the top three winners out of more than 100 entries, a vernissage and subsequent exhibition was held at the Höchster Volksbank.
Another strategy that is expected to create a positive public image is ongoing and wide-ranging coverage on events and particularities in Höchst, above all the Design Parcours and the Route of Half-Timbered Houses ("Route der Fachwerkstrasse").
Consultative Planning Council
The Höchst Consultative Planning Council is consulted regularly in an advisory capacity in relation to the implementation of the support program.

In particular, the Consultative Planning Council supports public action in the district and advises the municipal authorities and their representatives. It is made up of various district stakeholders as well as politicians and association representatives.