Legal Zoning Plans
Legal zoning plans should be compiled whenever necessary for urban development and good order's sake. This is left to the discretion of the municipality, which is therefore under no obligation to compile legal zoning plans for the entire city; as a rule legal zoning plans are compiled for certain areas of the municipality only.
As a rule a legal zoning plan comprises:
stipulations in written and diagram form,
the grounds

, in which the objectives and major impacts of the plan are explained,

an

environmental report

, as a separate part of the grounds,
and a

summary explanation

outlining how environmental issues and the results of public and official involvement were taken into consideration in the planning.
The stipulations in the legal zoning plan determine in a positive way which built and other facilities are permissible. There is no basic compulsion to use the plots of land in the manner envisaged (supply planning).
Legal zoning plans which came into force before July 20, 2006 contain no summary explanation and only in certain cases do they include an environmental report.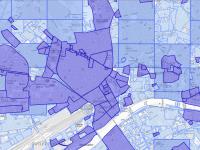 All the legally binding legal zoning plans of the City of Frankfurt/Main can be viewed in the planning information section of the planning department of the municipal planning authority.
Furthermore, you can download and print out all legally binding legal zoning plans and the attendant documents, as well as all areas of validity and procedural data compiled by clicking the planning law digital information system planAS. In planAS the areas of validity of the legally binding legal zoning plans appear as blue, and those in the compilation procedure as red spaces.