Niederrad am Main
Concept for socially responsible quarter development
Project management:
Ms. Anita Rosskopf
Telefon: +49 (0)69 212 30477
Telefax: +49 (0)69 212 30731
Project description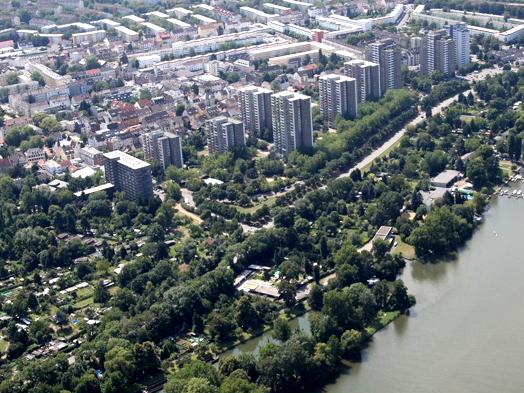 Reason for planning
Built between 1968 and 1972, the Im Mainfeld residential estate no longer meets the requirements associated with a modern city, with existing buildings and urban fabric decidedly in need of a facelift.
In an effort to improve the residents' housing and living conditions, in 2005 the Im Mainfeld estate was included in the "Active Neighborhood" scheme. The results of this measure are currently being evaluated.
At the same time, new urban development opportunities were also examined for Niederrad's northern edge, which extends beyond the high-rise estate.

Development district
The 37-hectare planning area embraces the northern periphery of Frankfurt's Niederrad district. It is delimited by the River Main to the north, the university hospital complex and to the south of it Schleusenweg to the east, the extension of Trifelstrasse to the west and Niederrad's old town center (western part of Schwanheimerstrasse and Kelsterbacherstrasse) to the south.

Planning objectivesSince the resolution on "Giving Mainfeld in Niederrad a new Perspective" was passed, three of the six residential high-rises on the Im Mainfeld estate have been modernized.
In early 2017, the fourth residential tower, Im Mainfeld 5, was prepared for modernization. In addition, a new two-story nursery will be built to the rear of the building. As with those residential high-rises that have already been refurbished, the ground floor will be converted for use as social infrastructure, and the entrance will be made considerably more attractive.
The existing Children's Center 122 on Kelsterbacher Strasse will be replaced by a new build on the same site. When this is being built the Children's Center 122 will temporarily relocate to containers on Bruchfeldplatz.
The existing youth center, the Mainfeldvilla, will move to the southern edge of, or into Elli Lucht Park.
There are plans to construct a new residential building on the previous site of the youth center and the surrounding area. The idea is for a mixture of communal and cooperative residential projects and senior citizens' apartments. As a result, the existing senior citizens' residence will become superfluous. A new plaza will take the place of the old building and create a point of transition from Elli Lucht Park to the Im Mainfeld residential estate. With a view to enlivening the plaza, those buildings bordering it could, in addition to small shops, accommodate the youth center on the ground floor.
In conjunction with the projects already outlined, by extending Elli Lucht Park in the direction of the River Main, flanked by new residential buildings, a new perspective can be opened up for the north of Niederrad.
Project progress
The concepts developed as part of the Niederrad ideas competition held in 2009/10 have not provided a sound alternative for the Im Mainfeld estate.
The two alternatives the City Planning Department developed as a basis for discussion were likewise abandoned.
The findings from the Mainfeld debates and the concept for socially responsible district development devised by the owner of the housing estate were included in the M 72 motion tabled by the Municipal Authorities. On May 11, 2015 the City Council approved the motion, which therefore now meets the criteria set out in resolution 7097: Giving Niederrad's Im Mainfeld district a new perspective. On May 11, 2015 the City Council approved the motion, which is currently being implemented.
For further information, please consult the City of Frankfurt's Parliamentary Information System (PARLIS), specifically the M 72 document presented to the City Council and dating from 2015.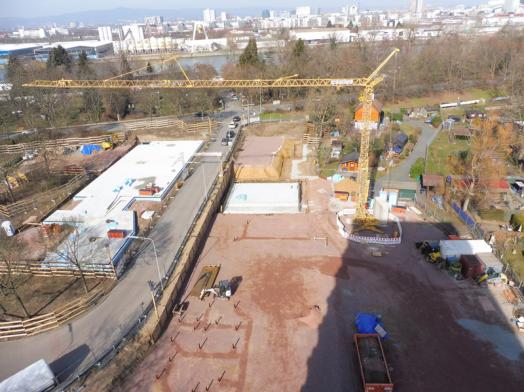 Projektverlauf
Die Erkenntnisse aus den Mainfeldgesprächen sowie das Konzept für eine sozialverträgliche Quartiersentwicklung der Siedlungseigentümerin (Konzern ABG Frankfurt Holding) wurden in den Magistratsvortrag M 72 aufgenommen. Dieser Vortrag wurde am 11.05.2015 von der Stadtverordnetenversammlung beschlossen und wird größtenteils so, wie vorgesehen, umgesetzt.
Die Sanierung und energetische Ertüchtigung der sechs Wohnhochhäuser des Konzerns wird im Sommer 2019 abgeschlossen sein. Alle sechs Häuser erhielten zudem neue, attraktiv gestaltete Eingangsbereiche.
Neben dem Haus Im Mainfeld 5 wurde wie angekündigt eine neue Kindertagesstätte errichtet, die im Januar 2019 den Betrieb aufnahm. Heizung und Kühlung erfolgt mittels Geothermie. Anders als ursprünglich angedacht, wird die neue Kindertagesstätte nicht als vorübergehendes Ausweichquartier für das Kinderzentrum 122 benötigt, sondern bietet von Beginn an zusätzliche Kinderbetreuungsplätze in Niederrad, 24 Plätze für Kinder unter 3 Jahren und 63 Kindergartenkinder.
Im Mainfeld 7 entsteht derzeit zu der neuen Kindertagesttätte ein Ergänzungsbau, der die Erweiterung der Kindertagesstätte zu einem Kinder- und Familienzentrum ermöglicht. Die Fertigstellung ist für Juli 2019 geplant. In dem ursprünglichen Konzept für die Quartiersentwicklung im Mainfeld war dieses Neubauprojekt noch nicht enthalten, dafür jedoch ein Familien Cafe, das nun im Rahmen dieses Projektes – mitsamt einer großen Außenterrasse – realisiert wird.
In direkter Nachbarschaft befindet sich das Gelände des Kinderzentrums 122. Das bestehende Gebäude wird abgebrochen und neu errichtet. Als Ausweichquartier werden Container temporär auf dem Bruchfeld untergebracht, der nach Fertigstellung des Kinderzentrums 122 neu gestaltet wird.
Unter der Federführung des Stadtplanungsamtes in Kooperation mit der ABG und einem externen Landschaftsarchitekturbüro wurde ein umfassendes Handlungskonzept für Wohnumfeldverbesserungen im Mainfeld erarbeitet, das neben den Außenanlagen zu den Wohnhochhäusern der Wohnheim und den Wegen durch die Siedlung auch das Außengelände des Jugendtreffs umfasste. Wichtige Eckpunkte waren eine generelle Verbesserung der Aufenthaltsqualität, bessere Angebote für die Jugendlichen, eine Öffnung der Siedlung hin zum Stadtteil und eine Gestaltung, die ein hohes Maß an sozialer Kontrolle ermöglicht und sich positiv auf das subjektive Sicherheitsempfinden der Bewohnerinnen und Bewohner auswirkt. An der Erarbeitung des Handlungskonzeptes waren die Bewohnerinnen und Bewohner der Siedlung und insbesondere auch die Jugendlichen beteiligt. Es fanden Quartiersrundgänge und eine Bewohnerbefragung statt, die Jugendlichen drehten ein Video, um ihre Wünsche zu formulieren. Nachden das Handlungskonzept vorlag, wurde die Ausführungsplanung für ihre Zuständigkeit innerhalb der Siedlung veranlasst. Diese kann jedoch erst ausgeführt werden, wenn die Arbeiten des Kampfmittelräumdienstes abgeschlossen sind.
In direkter Nachbarschaft des Jugendtreffs (ehemalige Hundeausgehfläche und Teile einer Gartenfläche) wird derzeit auf städtischem Gelände ein Provisorium für die Kooperative Gesamtschule (KGS) Niederrad gebaut.
Wenn der endgültige Neubau für den Hauptstandort der KGS-Niederrad am Bruchfeldplatz (Salzmannschule) fertiggestellt ist, wird die Fläche des Provisoriums für quartiersbezogene Entwicklungen zur Verfügung stehen.
Sie finden untenstehend, als PDF hinterlegt, die Vorlage M 72 aus dem Jahre 2015 mit weiteren Informationen.
PDF files relating to the project