North of Dieburger Strasse
Development plan no. 698
Topic:
Urban development draft, Housing
District:
Local district:
Size of area:
Ca. 9 ha, davon ca. 3 ha Grünfläche
Project management:
Ms. Ayla Claßen
Telefon: +49 (0)69 212 31940
Telefax: +49 (0)69 212 30731
Project description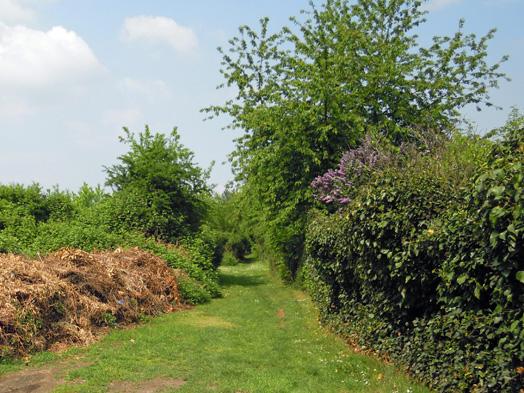 Reason for planning
The City of Frankfurt has launched the 2011 Residential Land Development Program (RLDP) in a bid to make sufficient land available for building purposes and thus meet the growing need for residential space in Frankfurt. The most recent version (Resolution of the City Council of January 27, 2012, B 36) includes an approx. 8.8-hectare site north of Dieburger Strasse in the south of Fechenheim, which has potential for some 200 dwellings.
Only the few remaining free plots of land along Dieburger Strasse can be developed under existing building laws (in accordance with section 34 BauGB). No formal building law exists covering the properties on the rear, however, meaning that an integral urban planning concept and development plan are first required.

Development district
The ambit of development plan no. 698 – North of Dieburger Strasse is located in Frankfurt's Fechenheim district north of the bend in the River Main and comprises a site of approx. 8.8 hectares. The southern perimeter is Dieburger Strasse. In the northwest the site borders on the commercial properties on Ferdinand Porsche Strasse before it follows the extension of Konstanzer Strasse (ambit of development plan no. 873 – in preparation). Adjacent in the northeast is the allotment garden complex of KGV Mainperle e.V. (development plan no. 605) and the existing structures in Fechenheim town center.

Planning objectives
Development plan no. 698 aims to establish the legal foundations for the due development of a new residential and mixed-use area north of Dieburger Strasse. The objective: The ensuing construction and utilization structure will emulate the existing buildings and surroundings to ensure a harmonious side-by-side of residential and commercial zones.
In addition, the idea is to secure the planning basis for the section of the Fechenheim greenbelt close to the residential area as an element linking the bend in the Main to the Seckbacher Ried. On this basis, it will be possible to upgrade the area in line with the urban development concept innate in Grünzug Fechenheim (2010).

Project progress
The development plan proposal was inspired by an urban design concept drawn up by the planners at BS+, which forms the basis for the overall plan (ill. 1 and 2). A structuring concept which also forms part of the resolution to establish the development plan proper was developed. The City Council adopted the relevant resolution on June 26, 2014.
The first public hearing took place in accordance with section 3 (1) BauGB on April 15, 2013 as part of the meeting of Local Consultative Council 11.
Early consultation with the public authorities and other public interest parties in accordance with section 4 (1) BauGB took place from June 26, 2013 to July 26, 2013. The development plan proposal is currently being advanced in consideration of the suggestions made by citizens and authorities and will subsequently be prepared for public disclosure.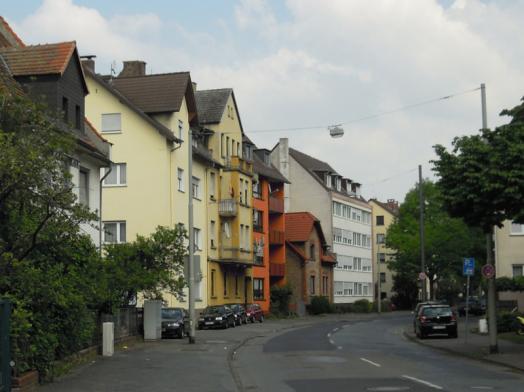 Planungsziel
Ziel des Bebauungsplans B 698 – Nördlich Dieburger Straße ist die Schaffung der planungsrechtlichen Grundlage zur geordneten städtebaulichen Entwicklung eines Wohngebietes unter Berücksichtigung vorhandener Gewerbebetriebe. Die vorgesehene Bau- und Nutzungsstruktur orientiert sich dabei an der Bestandsbebauung innerhalb des Plangebietes sowie dessen näherer Umgebung, um ein verträgliches Nebeneinander von Wohnen und Gewerbe zu gewährleisten.

Die zentrale Leitvorstellung der Gebietsentwicklung ist die Schaffung von Wohnraum und die Stärkung der Wohnnutzung insgesamt. Ergänzend wird im Nordwesten des Gebietes die Anlage einer Kindertagesstätte vorgesehen. Zur Schaffung eines fließenden Übergangs zum angrenzenden Gewerbegebiet "Ferdinand-Porsche-Straße" erfolgt im Westen die Entwicklung eines Mischgebietes. Im Norden des Plangebietes erfolgt die planungsrechtliche Sicherung des Fechenheimer Grünzugs, welcher ein verbindendes Element zwischen dem südlich gelegenen Mainbogen und dem nördlich zu verortenden Seckbacker Ried darstellt. Durch die vorgesehene Aufwertung entsteht hier ein Naherholungsgebiet für die künftigen Anwohner sowie die gesamte Bevölkerung Ortsbezirks Fechenheim. Des Weiteren dient der Bebauungsplan der planungsrechtlichen Sicherung der Flächen des Kleingartenvereins "Mainperle".

Projektverlauf
Im Vorfeld der Planungen erfolgte 2013 die Erarbeitung eines städtebaulichen Entwurfs für das Plangebiet durch das Architekturbüro BS+ auf dessen Grundlage die Durchführung der frühzeitigen Beteiligung der Öffentlichkeit (Frühjahr 2013 in der Sitzung des Ortsbeirates 11) sowie der Behörden und Träger öffentlicher Belange (TÖB) erfolgte. Im Anschluss wurde am 26.06.2014 der Aufstellungsbeschluss für den Bebauungsplan B 698 vom Stadtparlament gefasst.

Auf Grundlage des städtebaulichen Entwurfs, der Ergebnisse einiger Gutachten sowie unter Einbeziehung der durch die Bürger und TÖB vorgetragenen Hinweise und Anregungen im Rahmen der frühzeitigen Beteiligung wurde bis in das Jahr 2017 der Entwurf des Bebauungsplanes erarbeitet und die öffentliche Auslegung vorbereitet.

Aufgrund der aktuellen Parzellenstruktur ist im Plangebiet eine Bodenumlegung gemäß §§ 45ff BauGB erforderlich, um sinnvoll zugeschnittene und baulich nutzbare Baugrundstücke zu erhalten. Darüber hinaus erfolgt in diesem Rahmen durch das zuständige Stadtvermessungsamt die Durchführung von Eigentümergesprächen, um Aufschluss über die Mitwirkungsbereitschaft der Grundstückseigentümer in Bezug auf die Umsetzung des geförderten Wohnungsbaus zu erhalten. Um die Umsetzung der Vorgaben des Bebauungsplans u.a. hinsichtlich des sozial geförderten Wohnungsbaus sicher zu stellen, wird die Offenlage des Bebauungsplans bis zum Abschluss der Eigentümergespräche zurück gestellt. Der Beschluss für die Umlegung wurde im Herbst 2018 gefasst. Die Gespräche als auch die Bodenordnung sind derzeit noch nicht abgeschlossen.
Darüber hinaus soll die abschließende Gewährleistung der Umsetzung des geförderten Wohnungsbaus auf den Privatgrundstücken möglicherweise durch den Abschluss städtebaulicher Verträge gemäß § 11 BauGB mit den Eigentümern erfolgen.
PDF files relating to the project