Station forecourts in the north and south
Revised version of the proposal for the station forecourt in the north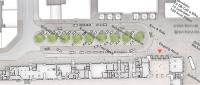 The forecourt in the north benefits from being separated from the car traffic on "Strasse Am Hauptbahnhof" as this creates a suitably sized plaza in front of the northern entrance, while still leaving enough space for taxi ranks and short-term parking spaces along with a Kiss&Ride facility and bicycle racks.
The existing entrance to the underground car park is relocated. The proposal: a new car park providing access to the existing underground car park built as a westward extension from the forecourt and parallel to the tracks. Car rental and car sharing spaces are also located there along with the corresponding services.
Revised version of the proposal for the station forecourt in the south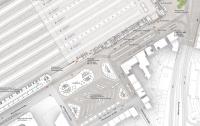 Likewise traffic-free, the eastern section of the southern forecourt accommodates a bus stop for passengers getting on an off along with further taxi ranks and short-term parking spaces as well as a Kiss&Ride facility and bicycle racks.
An additional car park is planned in the west, south of the tracks.
The new long-distance bus stop is located in the southern section of the "Campanile site". A walkway connects the civic center between the high-rise in the north of the site and the tracks.
Moreover, there will be barrier-free access to the pedestrian tunnel, which in future also links the two urban districts. The pedestrian tunnel is refurbished and indoor bicycle parking facilities created in the former mail tunnel.